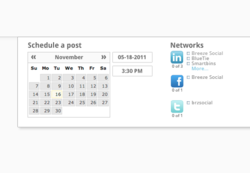 "With the addition of LinkedIn, we've centralized the most powerful social networks into one intuitive application and made it simple for SMBs to consistently post to and monitor their success on these networks." - Shawn Ryan, VP
Rochester, NY (PRWEB) May 18, 2011
It's no secret that small and midsized businesses (SMBs) need to be active on all leading social networks - not just consumer oriented sites - to see social media marketing make a difference in the bottom line. Businesses that find the most success with social media marketing maintain activity on multiple social networks – not just Facebook and Twitter. With this consideration, Breeze Social has added LinkedIn to its application that simplifies posting and engaging customers on the social web. LinkedIn is Breeze Social's fourth supported social network joining Facebook, Twitter and Tumblr - the fastest growing microblogging platform among businesses and consumers. Breeze Social is the only social media management tool that shows SMBs what to talk about each time they login with its posting suggestions feature released in April, and helps SMBs quickly engage, interact and measure success on the social web.
"Businesses and consumers check LinkedIn as a source of reputable information on a company, making an active profile paramount to establishing credibility and trust," Remarked Shawn Ryan, VP Product and Marketing, BlueTie, Inc. "LinkedIn has over 100 million active users and adds approximately one million new members each week. It is a tremendously powerful network that allows professionals to connect, offer advice and network to make meaningful connections. Consistent activity on this network, in addition to Facebook, Twitter and Tumblr, will enable our SMB customers to leverage the reach of LinkedIn to promote and grow their business amongst their SMB counterparts and potential customers."
The addition of LinkedIn support comes on the heels of the release of Breeze Social's posting suggestions feature which shows users what to talk about on the social web that is uniquely relevant to their business and industry, and is powered by Parse.ly - a leading news and information aggregator. Posting suggestions, along with post scheduling and Breeze Social's message formatting, streamlines the process of actively engaging on the social web for SMBs that have little time or resources to devote to sustained social media marketing activity.
"Breeze Social is built to simplify the entire process of being active and successful on the social web for SMBs," said Ryan. "With the addition of LinkedIn, we've centralized the most powerful social networks into one intuitive application and made it simple for SMBs to consistently post to and monitor their success on these networks. We've removed all of the roadblocks SMBs face when evaluating a new marketing activity and ensured that businesses don't have to understand the nuances of each network, or know what to post, to successfully add social media marketing to the mix."
Breeze Social is free to businesses for thirty days and is offered to channel partners as a wholesale based partner program. More information is available at http://www.breezesocial.com.
About Breeze Social
Breeze Social helps businesses (SMBs) quickly engage, interact and influence the social web while providing measurable results that confirm return on their social media investment. With Breeze Social, SMBs have the ability to post to leading social media networks, see what's being said to and about them, engage their customers, and measure their impact all from one, intuitive interface and in less than ten minutes a day. Breeze Social is the only social media management tool that shows SMB users what to talk about on the social web with posting suggestions - a feature that pulls in relevant news and information specific to users' specified industry, locale, competitors and company profile for the purpose of social media distribution. Powered by BlueTie, a 12 year veteran in the hosted applications for SMBs space, Breeze Social leverages BlueTie's industry leadership in scalable business applications to deliver a reliable value-adding solution. http://www.breezesocial.com.
###