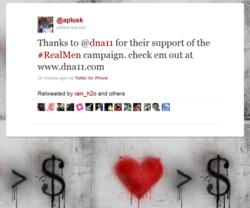 Ashton Kutcher (@aplusk): Thanks to @dna11 for their support of the #RealMen campaign. check em out at www.dna11.com
New York, NY (PRWEB) May 18, 2011
DNA 11, the company that brought DNA Art to the masses, is teaming up with Demi Moore and Ashton Kutcher's DNA Foundation to raise funds and awareness for the "Real Men" campaign against child sex slavery and human trafficking.
Starting today, 10 per cent of all DNA Portrait sales will be donated to the DNA Foundation simply by adding the promo code REALMEN upon checkout. Customers will also receive 15 per cent off their order to thank them for their support.
The Real Men campaign -- featuring such stars as Justin Timberlake, Drake, Bradley Cooper and Sean Penn -- highlights how "real men" behave. Real Men know how to start a fire, they do their own laundry, they walk it off -- but Real Men don't buy girls.
DNA 11 was hand picked by Demi and Ashton to provide thank you gifts to all DNA Foundation celebrity endorsers to took part in the "Real Men" campaign.
"We feel very strongly about this cause and were honored when Ashton and Demi approached us to help," said DNA 11 co-founder, Nazim Ahmed.
DNA 11 will be running the Real Men promotion until the end of June at which time they will match all funds raised by the campaign for the DNA Foundation.
"As a company that celebrates the innate humanity in all of us -- our DNA -- we felt it was important to help bring attention to this great cause that seeks to ensure all humans are treated with respect and dignity," said DNA 11 co-founder Adrian Salamunovic.
The campaign has been a huge success in the social media realm, generating thousands of user-made videos and tweets, and recently both Ashton and Demi thanked DNA 11 on Twitter for their help with the campaign.
@aplusk Thanks to @dna11 for their support of the #RealMen campaign. check em out at http://www.dna11.com
DNA 11 is proud to assist charitable organizations through it's DNA 11 for Charity foundation which provides celebrities with the opportunity to create limited edition prints of a their DNA, Fingerprint or KISS print and auction them off to support their favorite charitable organizations.
About DNA 11
DNA 11 is the original creator of DNA Art – the world's most personal form of art that combines design, technology, science and pop culture. DNA 11 creates contemporary custom portraits from DNA, fingerprints and lip prints. Each modern art piece is as unique as the person purchasing it. These one-of-a-kind art pieces can be found in the Museum of Modern Art (MoMA) stores, have been featured in an episode of CSI: New York and can be found in thousands of homes around the globe. Most recently, DNA 11 changed the industry again with the launch of DNA 11 Ancestry Portrait which visualizes maternal lineage in a custom piece of augmented art. For more information visit http://www.dna11.com.
###