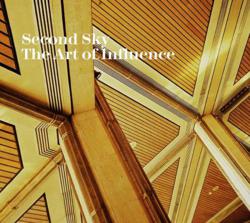 The album entices us to travel within and without ourselves, tasting flavors of the world in a way that is equally personal as it is universal.
Washington, DC (PRWEB) May 18, 2011
Rhythm & Culture Music, distributed through ESL Music, announced that it will release the debut album of Second Sky , titled The Art of Influence. The trio of Billy Medina, Wes DiIorio and Bill Lascek-Speakman create a sound that blends past with future and organic with electronic.
The Art of Influence is a journey into the mind of songwriter, Billy Medina, as he translates experience and emotion into sonic worlds of introspection and discovery. Bassist, Wes DiIorio, and drummer/producer, Bill Lascek-Speakman, set the scene with lush soundscapes, dusty hip-hop beats and dynamic musical passages.
While rooted in trip-hop and dub, The Art of Influence pulls inspiration from the past, present, future, and a variety of international influences. The opening track, "Dragonfly," begins like the morning sun rising over the river Ganges. "Under the Line" harkens back to 1970s soul, while the instrumental "Sundowner" draws upon strong afrobeat rhythms, suggesting the notion of a crowded street scene or packed dance floor. Deeper into the album, "A Hundred Million Sounds" features sitarist Harry Payuta, whose ability to seamlessly meld Indian classical music with Western sensibility adds a new layer to the band's already eclectic sound.
Featured as the #1 most added album for the week on CMJ's RPM list last month Second Sky's, The Art of Influence, has already begun to attract curiosity and attention. Available on May 24th by digital download on iTunes and Amazon, the album entices us to travel within and without ourselves, tasting flavors of the world in a way that is equally personal as it is universal. The first release, Too Far, can be previewed here http://soundcloud.com/secondsky/too-far.
Full Track Listing:
Dragonfly
Under the Line
Sundowner
Too Far
A Hundred Million Sounds
Connect
Hourglass
The Others
The Art of Influence
You Should Know
Messenger
About Rhythm & Culture:
Rhythm & Culture Music hails from the vibrant and diverse Washington, D.C. electronic scene, which saw such groundbreaking acts as, Deep Dish, 95 North, and Thievery Corporation amongst others. Rhythm and Culture brings together a powerful roster of artistic talent, and internationally acclaimed producers with a seasoned management and promotion team. This artist owned and run label already has an enviable roster and an impressive release schedule. Brought together by Farid Nouri, resident DJ and one of the founders of The Eighteenth Street Lounge and Club Red, and Thomas Blondet, a DC staple of world class deejaying. Combining this roster with acclaimed productions, the label is poised to redefine the very sound its artist help shape. Please feel free to contact us with any questions or comments: info(at)rhythmandculture(dot)com.
Twitter:
@secondskydotnet
@ThomasBlondet
@Rhythm_Culture
@18thSTLounge
# # #