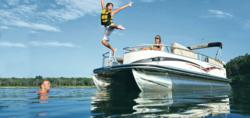 It may come as a surprise, but it doesn't have to cost a fortune or require years of boating experience to enjoy the boating lifestyle.
Chicago, IL (PRWEB) May 18, 2011
For those who love life on the water, enjoy the whine of a reel or just like the wind in their hair, it's that time of year to get out on the water. According to the National Marine Manufacturers Association, 75 million people chose boating as a way to enjoy the outdoors last year, proving boating's popularity and accessibility for every activity, budget and body of water. Discover Boating, a nonprofit awareness program on behalf of the recreational boating industry, launched their new campaign, Welcome to the Water, this week as an invitation to help nautical novices get started in boating.
"It may come as a surprise, but it doesn't have to cost a fortune or require years of boating experience to enjoy the boating lifestyle," says Ellen Hopkins, spokesperson for Discover Boating. "Discover Boating provides unbiased resources for those who want to experience boating and walks potential boaters through easy steps to find the right boat, all while having some fun along the way."
More than 90 percent of Americans live within an hour's drive of a navigable body of water. As the heat index climbs, people naturally flock to the water, but many are unaware of how to go from the dock to the deck. Discover Boating offers those seeking the boating lifestyle a new step-by-step guide—the Get Off Your Dock Guide to Boating—which simplifies the boat-buying adventure.
Available on DiscoverBoating.com, the guide is packed with interactive features to help landlubbers familiarize themselves with all aspects of boating, including a boat selector tool that compares boat types by activity, size and propulsion; a financing calculator; plus, other helpful topics and tools, from trailering and maintenance to naming your boat.
Discover Boating makes getting started in boating a breeze. Here are helpful tips to help you get off the dock:

Ask the right questions. When thinking about what is the best boat for you and your family, start by asking: "What do I want to do on my boat?" "Who's coming with me?" and "Where do I want to go?" The answers will help identify the right types of boats for your budget and interests.
Build a budget. Did you know 75 percent of boat owners have a household income under $100,000? There are brands and price points to fit individual needs. Determine how much you want to spend before actively looking, so a dealer can recommend models in your price range.
Find the one. Finding the perfect boat is like finding a new best friend. To meet the perfect match, do your homework and scope out the options. Boat shows offer all types of watercraft in one spot or stroll around a local marina or dealership to see a variety of boats, brands and models popular in your area. Make sure the boats are NMMA Certified, the boating industry's 'seal of approval', to ensure they meet strict product-quality standards.
Test the waters. You wouldn't buy a pair of pants before trying them on or buy a car without getting behind the wheel. Buying a boat is no different. Consider renting or chartering, join a boating club or looking into fractional ownership opportunities. All offer affordable and accessible options to experience the allure of the boating lifestyle and determine what you want out of your boating experience.
"Boating is an ideal way to get outside, leave stress on land and spend quality time with family and friends, which is Discover Boating's ultimate goal ̶ to help people experience all the joys boating has to offer. By simplifying the buying process, Discover Boating can help you get onboard and start enjoying life on the water," notes Hopkins.
For more information, visit DiscoverBoating.com. The latest boating news, fun summer boating playlists and more can also be found at Facebook.com/discoverboating.
About Discover Boating
Discover Boating is a national awareness campaign developed by the North American recreational boating industry and managed by the National Marine Manufacturers Association (NMMA). Discover Boating programs focus on improving the boating experience and building interest in recreational boating by providing a resource for Americans to explore the benefits, affordability and accessibility of the boating lifestyle. To find out more, visit DiscoverBoating.com.
Media Contact:
Kelly Kaylor
kkaylor(at)nmma(dot)org
312.946.6262
# # #