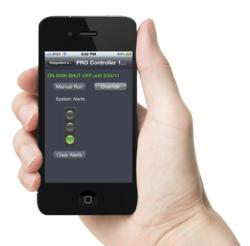 "What we are providing is smart Irrigation in the palm of your hand," says Cyber-Rain CEO Diana Schulz.
Encino, CA (PRWEB) May 17, 2011
Cyber-Rain, makers of easy-to-use Internet-based smart sprinkler controller systems that reduce landscape water usage by 30-70% by automatically adjusting for local weather conditions, today announced the availability of the XCI Cloud - the ultimate tool for green home automation because it allows owners and managers of residential and commercial properties to manage an unlimited number of controllers through any Internet-connected computer. For the first time, users can monitor and control watering – as well as access critical data in an easy-to-read format – from any location. Cyber-Rain even offers a free iPhone app that lets customers control their watering from their hand-held devices.
Most sprinkler control systems in use today rely on timers that need to be manually adjusted. As a result, hundreds of millions of gallons of water are wasted every year because plants get watered when they don't need to be – including on cold days and even when it's raining. Cyber-Rain is a pioneer in using Internet-based weather data to water only when it's necessary. So far, its customers have saved nearly 120 million gallons of water using our system. In fact, Cyber-Rain is so efficient that it even qualifies for many water-efficiency rebates.
"What we are providing is smart Irrigation in the palm of your hand," says Cyber-Rain CEO Diana Schulz. "XCI Cloud gives property owners and managers a graphical tool that lets them manage watering from any Internet-connected computer in the world…and even through an iPhone app. Users can create efficient watering schedules – that are customized to their landscape – through an intuitive interface that is easy to use. One of the biggest innovations of XCI Cloud is a comprehensive dashboard-based reporting capability that lets users know how much water (and money) they are saving. We track usage not only by property, but also by zone, which allows property managers and owners to maximize their watering efficiency. We also provide users comprehensive reporting on everything from valve diagnostics to detailed logs of all irrigation activity."
About Cyber-Rain
Cyber-Rain is an emerging leader in providing groundbreaking smart sprinkler controller systems to the residential and commercial markets. The company is privately held and is backed by investors including DeWaay Investment Partners, Athenian Venture Partners, Momentum Venture Management and Funk Ventures. For more information on the company and its products, please visit http://www.cyber-rain.com.
###