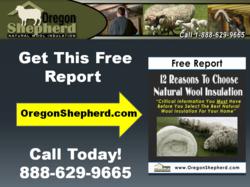 Wool insulation for attics, ceilings, walls and floors is gaining wider acceptance among the general public.
Rainier, OR (PRWEB) May 21, 2011
Oregon Shepherd, a leading sheep wool insulation producer continues to buck the trend in the down housing market by consistently finding alternative ways to communicate with its core target market – environmentally conscious consumers.
"Wool insulation for attics, ceilings, walls and floors is gaining wider acceptance among the general public," says Bob Workman, general manager at Oregon Shepherd. "Our target market used to be only consumers who considered themselves environmentally conscious," continued Workman. "But these days, more and more people are seeing the value in using sheep wool insulation as a way to save time and money preferring this alternative insulation material. Our niche is still smaller than traditional cellulose or fiberglass insulation, but it is growing."
"Builders, insulation installers and homeowners are always looking for new and innovative ways to protect their homes, and natural insulation seems to appeal to them all," said Kelly Donnelly, marketing manager. Because of this trend, we've had the opportunity to speak with many online experts, bloggers and website owners that believe in what we do and are eager to spread the word about our products."
One such website is http://www.green-talk.com. According to Anna Hackman, editor, Green Talk is all about the conversation on how to live a greener lifestyle and green your business. Anna recently interviewed Bob and Kelly about their natural wool insulation. The taped video interview can be seen here: http://budurl.com/WoolInsulation
"With new housing starts down nationwide, people are updating and upgrading their current homes rather than buying new. This presents us with a great opportunity to attract customers who want to use renewable resources like sheep wool to insulate their homes and websites like Green Talk provide us the vehicle do so," said Workman.
About Oregon Shepherd, LLC
Oregon Shepherd, LLC was formed in 2003 by Joel Pynch and Margaret Magruder with the specific goal of expanding traditional markets for natural wool products. Workman was engaged in 2009 as a management consultant to develop the process, patents, and machinery to manufacture wool insulation for the US market. To learn more about PermaLoft® and PermaBatt® natural wool insulation contact Bob Workman at 888-629-WOOL(9665) or go to: http://www.oregonshepherd.com/wool-insulation/.
# # #