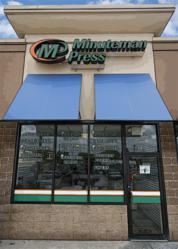 "Keeping clients and visitor's updated about our company is crucial to our business,"
Enfield, CT (PRWEB) May 19, 2011
MinuteMan Press is pleased to announce its new website that features easy digital printing and color printing price quotes, a blog feature, and social media tools. The site also features user submitted comments, social bookmarking, and a newsletter to keep clients informed of new business news, specials, and promotions.
"Keeping clients and visitor's updated about our company is crucial to our business," Lindsey Weber, co-owner of MinuteMan Press of Enfield, CT says. "We look forward to connecting with Facebook and Twitter users in a new way."
In addition to all the new features, the website has a new facelift. With a crisp easy to read look, friendly navigation, and interactive comments, users can identify with the friendly young owners of the business. The website showcases digital printing convenience in the Western Massachusetts and Northern Connecticut area, and competitive color printing pricing nationwide. In addition, businesses can order directly from the site business cards, promotional items, and wedding invitations.
The interactive blog is a new feature that highlights the company's philanthropic community involvement, including fundraisers, and their involvement with local business organizations. The website will also touch on unique eco friendly programs such as the "Plant a tree for every invoice" campaign.
About the Company:
Since March 2004, Michael and Lindsey Weber made a commitment to provide high quality digital printing, including competitive color printing and copying services meeting customers' deadlines. They attribute their success to their customers' needs and their commitment to their community.
###