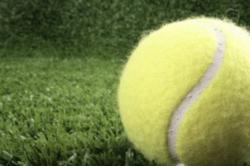 "all of our clients have told me that they regret not installing artificial grass sooner." - Victor Lanfranco, Co-Founder of Synthetic Grass Warehouse
Anaheim, CA (PRWEB) May 24, 2011
Numerous university studies and lab tests confirm that artificial turf on tennis courts and sports fields have numerous benefits over traditional surfaces; most notably, the reduction of water consumption and maintenance costs. Recent technological improvements by Synthetic Grass Warehouse and TigerTurf have far surpassed the return on investment for customers and field operators. Years of extensive research and development in the lab have brought athletes a product that mimics real grass, while enhancing performance and safety. Synthetic Grass Warehouse and TigerTurf offer fibers specifically designed for each sports application, including tennis.
All of the artificial grass that Synthetic Grass Warehouse distributes has the same feel and texture of real grass, yet has the strength and durability to hold up to freezing temperatures, as well as extremely hot desert environments. Moreover, there is never a need to water, mow, fertilize or seed. During extreme heat and when exposed to direct sunlight, synthetic grass tennis courts do not melt or deteriorate. If the surface temperature increases, it can be hosed with water to greatly decrease the temperature of the surrounding environment by up to 20 degrees. Conversely, in environments with snow or hail, artificial grass courts will not freeze or change texture. Even in high rainfall, games and events will never be delayed or cancelled. Artificial turf tennis courts are equipped with a unique perforated drainage system that is designed with a highly permeable backing. This unique surface drains large amounts of rainfall even more quickly better than real grass.
Tennis players are highly concerned with the type of surface they play on because of the way it affects ball bounce and reaction. It is vital to a tennis player's success to be familiar with ball reaction to court surface. Artificial grass tennis courts have a very similar ball bounce reaction as hard surface tennis courts. Artificial grass systems are cushioned to provide its athletes with secure footing, even bounce and even cushioning. In addition, artificial grass installs can reduce damage from wear on the body by leveling the ground surface.
Logistically, installing an artificial grass court is one of the smartest things an institution can do to save money. Compared to gravel clay or real grass tennis courts, artificial grass never needs to be watered, raked, or weeded. This can easily eliminate any maintenance costs for the groundskeeper. Victor Lanfranco, co-founder of Synthetic Grass Warehouse emphasized that "all of [his] clients have told me that they regret not installing artificial grass sooner. The cost benefits are through the roof. One customer was thrilled that their cost savings eliminated their lawn maintenance costs from $6,000 a year to virtually nothing."
About Synthetic Grass Warehouse, Inc. U.S.A.: Synthetic Grass Warehouse (http://www.syntheticgrasswarehouse.com) is the exclusive national distributor for TigerTurf brand synthetic grass products. Founded in 2003, Synthetic Grass Warehouse offers a wide selection of landscape turf, pet turf, sports turf, putting greens, weed suppressors, nails, staples, and artificial turf installation equipment. In addition to providing high quality products and competitive prices, Synthetic Grass Warehouse offers same-day shipping on all orders.
###