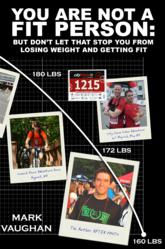 Losing weight is hard enough when you are getting all of the right information. It is nearly impossible when you are being misled
Vancouver, BC (PRWEB) May 19, 2011
Why is it that Curtis Stone, seen on Biggest Loser as a celebrity chef who prepares healthy foods, is partnering with a cereal that has more sugar per serving than Honey Bunches of Oats? If this seems suspect to you, you aren't the only one. Mark Vaughan, the author of 'You Are Not A Fit Person' takes a detailed look into the health claims of the new re-launch of Great Grains by Post Cereals in an article published today.
"Curtis's personal food philosophy is central to the mission of Post Great Grains — that great tasting, nutritious food starts with less processed, quality ingredients," said Joahne Carter, Associate Director of Marketing for Post's Adult Brands. "He is the perfect partner to help make all of us more aware of the source of our food and the benefits of incorporating more whole foods into our diets." The problem that Post is facing, using Curtis Stone to tell the 'whole story about Breakfast' is that Post is not telling people about the dangers of eating foods with considerable amounts of added sugars. Post is using current research to promote the eating of whole grains while at the same time ignoring the same research that recommends eating less added sugars. Both of which are part of the three major goals for Americans according to the Dietary Guidelines for Americans, 2010, released on January 31, 2011. According to the Office of Communications of the USDA, "The new 2010 Dietary Guidelines for Americans focus on balancing calories with physical activity, and encourage Americans to consume more healthy foods like vegetables, fruits, whole grains, fat-free and low-fat dairy products, and seafood, and to consume less sodium, saturated and trans fats, added sugars, and refined grains."
This process of ignoring the health dangers of a food while promoting the health benefits has been termed 'Health Washing' and it is a serious threat to the health of Americans. According to Mark Vaughan, "Health and fitness are proving elusive for people in the industrialized world and a big part of the cause of this is our western diet. Preprocessed foods and excessive amounts of sugar are leading causes of obesity in America". Ralcorp, the owner of Post Cereals reported net sales of over $1 billion in the second quarter of 2011 alone, with over $50 million of that coming from the Branded Cereal Market. Post Cereals is a significant player in the packaged foods market in North America. When a company this large makes certain products appear to be a healthy choice, when they may in fact not be, the general public will suffer. "This was precisely what happened during the low fat food craze which resulted in record levels of obesity for Americans", claims Mark Vaughan. In the article he points out some of the more disturbing claims the campaign is making including the claim, or pun, that "Curtis Stone tells the WHOLE Story about Breakfast and Calls on Americans to Join Him in Movement to Eat More Whole Foods". It is clear that Curtis Stone is not telling the whole story about Great Grains cereals and the healthy choice to eat foods that have less added sugars.
Additionally, the claim that "at the start of each day, Stone is a breakfast lover. He is passionate about using quality ingredients and teaching others about cooking and eating for better health." While this claim may be true, it seems contrary to him selling a preprocessed breakfast cereal in a box.
###