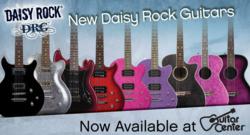 We're very excited to be working with Guitar Center to help provide a larger assortment of guitars specifically for girls. Now, any girl that walks into a Guitar Center store will have more options than ever to choose from.
-Tish Ciravolo
Los Angeles, CA (PRWEB) May 18, 2011
Daisy Rock Girl Guitars, the original girl guitar company, proudly announces that their newest line of DRG guitars are now available at all 219 Guitar Center locations, nationwide and online at GuitarCenter.com. The new assortment of over a dozen inspiring girl guitars, including the Black Cherry Burst Rebel Rockit Supernova, the Plum Purple Burst Pixie Acoustic/Electric, and the Cosmic Purple Rock Candy, are now available at Guitar Center, the world's largest musical instrument retailer.
Tish Ciravolo, Founder and President of Daisy Rock Girl Guitars comments, "Here at Daisy Rock, we're passionate about doing whatever it takes to help girls play guitar and enjoy music. We're very excited to be working with Guitar Center to help provide a larger assortment of guitars specifically for girls. Now, any girl that walks into a Guitar Center store will have more options than ever to choose from." For nearly 50 years, Guitar Center has served as a trusted retailer of musical instruments and continues to supply musicians with top-quality tools of the trade.
Daisy Rock Girl Guitars offers a complete line of quality guitars and basses that are specifically designed for girls. The trademark "Slim & Narrow" neck profile is easier for girls with smaller hands to play, and the lightweight bodies are easier and more comfortable for girls to hold. Plus, the guitars look inspiring, and they sound incredible. For more information about Daisy Rock Girl Guitars, visit daisyrock.com.
For more information about Guitar Center and to find a location near you, visit guitarcenter.com. Daisy Rock Girl Guitars are also available for purchase on guitarcenter.com, which ships to locations worldwide.
ABOUT DAISY ROCK GIRL GUITARS
Daisy Rock Girl Guitars is the original girl guitar company dedicated to successfully supplying and marketing professional quality guitars for females of all ages. All Daisy Rock guitars are designed specifically for the female form and feature lightweight bodies, "Slim & Narrow" neck profiles to better fit smaller hands, and are available in inspiring finishes. Daisy Rock Girl Guitars' ongoing mission is to do whatever it takes to help girls play guitar and enjoy music.
Daisy Rock Girl Guitars is led by its Founder and President, Tish Ciravolo. Ciravolo is a highly acclaimed expert on female empowerment and females in music. Tish's expertise has been immortalized by her induction into the Museum of Making Music, the world's premier museum showcasing the history of the music products industry, and she is widely regarded as a visionary in the industry. Ciravolo's deep insight into the subject of girl guitars and female empowerment has made her a sought after and frequent contributor on national and international television, newspapers, magazines, websites, and radio programs including People, Time, Newsweek, CNN, ABC, NBC, FOX, VH1, the Premier Radio Network, BBC Radio, and the Associated Press. Daisy Rock Girl Guitars is in over 25 countries worldwide, and is co-owned and distributed by Alfred Music Publishing.
ABOUT GUITAR CENTER
Guitar Center is the leading United States retailer of guitars, amplifiers, percussion, keyboards and pro-audio and recording equipment. Our retail store subsidiary operates 219 Guitar Center stores across the United States. In addition, our Music & Arts division operates 95 retail stores specializing in band and orchestra instruments for sale and rental, serving teachers, band directors, college professors and students. We also are the largest direct response retailer of musical instruments and related products in the United States through our wholly owned subsidiary, Musician's Friend, Inc., and its catalogs and owned or operated websites.
# # #