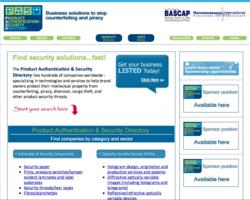 By locating the world's authentication technologies and services in a central location, the Directory will better enable brand owners to assemble and create product security programs and teams to combat piracy and counterfeiting
(PRWEB UK) 20 May 2011
Reconnaissance International and BASCAP/ICC have joined forces to launch an online brand and product protection directory for users of authentication technologies.
The powerful new online tool – the Product Authentication + Security Directory (PASD) - lists hundreds of companies worldwide specializing in technologies and services to aid the prevention, detection and control of product fraud security solutions to combat piracy, diversion, counterfeiting, and theft.
PASD combines the best features of BASCAP's previous web listing of suppliers and resources for brand owners and Reconnaissance's successful Authentication Connections Directory (ACD), published in 2009.
It lists over 500 suppliers and resources by categories, which include investigators, consultants, legal professionals, associations, and technology providers. The latter are organised by substrates and substrate-borne security features; optically variable devices; print technologies and features; inks, coatings and taggants; coding, fingerprinting and serialisation technologies; and integration and conversion, all with detailed sub-categories.
BASCAP (Business Action to Stop Counterfeiting and Piracy) is an initiative of the International Chamber of Commerce that advocates for brand protection and aims to connect and mobilize businesses across industries, sectors and national borders in the fight against counterfeiting and piracy. It is hosting the PASD, providing links from the ICC/BASCAP website which receives over 3 million hits per month.
Publishing and consultancy organisation Reconnaissance International is a leading global source of technical and business intelligence for brand protection, pharmaceutical anti-counterfeiting, secure documents, holography, fiscal stamps and currency through reports, research, newsletters and conferences.
Suppliers of authentication products, systems and services receive a basic listing in PASD for $95 per year. Premium listings and site sponsorships are also on offer to organisations wanting a more prominent appearance on the Directory website.
Commenting on the launch of PASD, Jeffery Hardy, ICC BASCAP Coordinator, said: 'By locating the world's authentication technologies and services in a central location, the Directory will better enable brand owners to assemble and create product security programs and teams to combat piracy and counterfeiting.'
From partner Reconnaissance International, Ian Lancaster noted that 'the Directory essentially builds up and modernizes our long-standing Authentication Connections Directory, which to date has only been available in hard copy. Through this partnership we are able to combine our trusted sources and the strengths of on-line services with BASCAP's mission to stop IP theft.'
Further information on PASD can be found at http://www.pasdirectory.com.
###