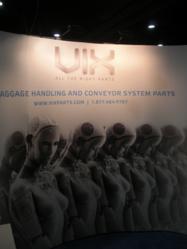 With our clients in mind we simplified the way of ordering spare parts
Atlanta, GA (PRWEB) May 18, 2011
Vanderlande Industries, the nation's largest builder of baggage handling systems announces the launch of VIX Parts, an online business to business portal for almost all spare parts in the baggage handling industry. VIX Parts will provide parts and equipment for baggage handling systems, carousels and conveyors online. The VIX Parts team can also provide complete spare parts packages, parts troubleshooting and inventory optimization up to and including consignment possibilities. Ewout Cassee, President Vanderlande Industries Inc. explains; "With our clients in mind we simplified the way of ordering spare parts. I am proud to say that we now are able to provide our clients with a completely transparent and user friendly ordering process. The process is easier, saves time and keeps track of order history. With VIX Parts as our tool, our goal is to be the leading spare parts supplier for baggage handling systems and carousels in North America." Please visit our website at http://www.vixparts.com.
Spare parts and baggage handling equipment
VIX Parts provides a completely transparent ordering process, not to mention the ability to track parts usage history, obtain logistics and transportation information, run reporting, as well as pull any and all previous orders for up to a 24 month period. VIX Parts will provide each client with specific log-in information and a custom tailored parts list to fully meet the clients' needs. The ordering system is built to serve our clients in the best way we can and that is the way we want to work.
With more than 3000 different spare parts and adding parts daily, VIX Parts is dedicated to supplying customers with their specific spare part needs and individual client requirements. We are able to handle all your parts situations, and you can order parts seven days a week. VIX Parts can provide most of the parts and equipment you will ever need from belts to chains and wheels to seals.
We take our business of delivering spare parts very serious. Every member of our staff is focused, first and foremost on customer service. We feel that you should receive not only a competitive price, but reasonable lead-times, and the highest level of customer service possible. We strive to provide each of our clients with a customized spare parts portal to address their individual needs to the best of our abilities.We know that most baggage handling systems are tailor made. We believe your spare parts needs should be as well.
Equipment and installation
VIX Parts is a business unit of Vanderlande Industries Inc. Being part of Vanderlande Industries means that we not only offer spare parts but also are able to technically support the installation of baggage handling equipment and spare parts. We can provide on-site staffing to cover areas of operations and maintenance for your baggage handling systems. Our professional service team will work diligently to optimize your system availability and ensure the highest degree of operational efficiency. We understand that on-time baggage delivery is vital to traveler's satisfaction levels and the image of your airport and airlines. VIX Parts is dedicated to providing the service Vanderlande Industries reputation is built upon in the most cost efficient way.
Vanderlande Industries leading baggage handling solution provider
Vanderlande Industries in Atlanta serves the baggage handling market at airports as well as the materials handling system market for distribution and parcel & postal in North America. As far as the baggage handling market goes, our systems include self-check-in, high-speed transportation, integrated Hold Baggage Screening, baggage carousels and more. Automated Baggage Storage can be integrated to handle bags by priority. Vanderlande Industries offers tailor made solutions improving the competitiveness of its customers. The headquarters for North America is located in Atlanta, GA, USA. Vanderlande Industries employs over 2000 employees in 15 countries. Please visit our website at http://www.vanderlande.com or visit VIX Parts at http://www.vixparts.com.
###