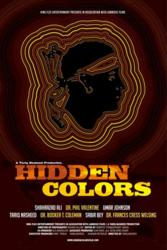 Los Angeles, CA (PRWEB) May 18, 2011
Tariq Nasheed in Association with King Flex Entertainment and Lab Noise Films presents: Hidden Colors: The Untold History of People of Aboriginal, Moor, and African Descent
Hidden Colors is a documentary about the real and untold history of people of color around the globe. This film discusses some of the reasons the contributions of African and aboriginal people have been left out of the pages of history. Traveling around the country, the film features scholars, historians, and social commentators who uncovered amazing facts about things such as:
*The original image of Christ
*The true story about the Moors
*The original people of Asia
*The great west African empires
*The presence of Africans in America before Columbus
*African rulers in Europe
*The real reason slavery was ended
*The truth about race and I.Q
And much more
Hidden Colors had a limited theatrical run to sold out audiences in Los Angles, New York, Washington D.C and Atlanta. The film was directed by New York Times best selling author Tariq Nasheed (The Elite Way). In a recent interview, Nasheed stated, "Most documentaries about Black or African people only talk about slavery. I wanted to do a film about our history before slavery.This is something that is never talked about".
The Hidden Colors dvd and trailer is available at http://www.hiddencolorsfilm.com
For More Information and Interview Request Contact:
Tariq Nasheed at
hiddencolorsfilm(at)yahoo(dot)com
info(at)tariqelite(dot)com
# # #