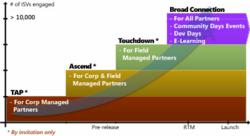 Here at Winscribe, innovation is what we do. We have redefined the global dictation market by introducing workflow technology in 1997, and we are continuing this strategy with our BPM software today.
Auckland, New Zealand (PRWEB) May 19, 2011
Being at the forefront of industry does not only mean having an inside scoop on future developments that will impact the global business community. It also means actively participating in shaping this vision, staking a claim and pushing hard to improve user experience, usability and ultimately the return that businesses, such as legal or healthcare firms, will receive on their investment.
Winscribe is proud to be an integral member of Microsoft's Azure AppFabric Technology Adoption Program (TAP) yet again in 2011, after receiving the coveted "Most Valued Contributor Award" from Microsoft in 2010. The TAP is an early adopters program run by Microsoft, which gives leading software vendors the ability to influence Microsoft products through their feedback and gain a strategic edge by having access to product information even before the pre-release stage.
Greg Allen, CTO of Winscribe explained the importance of the Technology Adoption Program: "Here at Winscribe, innovation is what we do. We have redefined the global dictation market as the first company to bring workflow technology to dictation in 1997 and have continued on this path, ultimately becoming the digital dictation market leader in both legal and healthcare markets. We have more than double the customers of our nearest competitor for a reason. Now we are continuing this strategy with our BPM software and the TAP means that we combine our effort with Microsoft to bring best of breed product to customers in advance of our nearest rivals. Having the ability to shape this product and partner with Microsoft has been an extremely valuable experience in 2010 and we are looking forward to our collaboration in 2011 and beyond."
For more information about the TAP view click http://msdn.microsoft.com/de-de/isv/bb190413(en-us).aspx [here __title__ Microsoft Technology Adoption Program Homepage]. More information on Winscribe's business process management software for legal firms can be found on Winscribe's website.
About Winscribe
As a world leading provider of digital dictation software Winscribe supports businesses all over the globe with their requirements for digital dictation, digital transcription, voice recognition, and workflow management. Based on years of experience in the workflow management field Winscribe has now extended its offering to Business Process Management solutions for the legal market.
Winscribe is the largest supplier of digital dictation technology in the world with installations in 25 countries and more than 350,000 users globally. Winscribe provides solutions for a number of industries including Legal, Law Enforcement, Healthcare, Transcription, Surveying, Insurance and Government sectors and has a widespread global reach with strong customer presence in North America, Europe, Australasia, and South Africa.
Offices located in the USA, UK, New Zealand, Australia, and Switzerland and a network of more than 100 sales partners provide a global knowledge base that enables customers to successfully implement and maintain their Winscribe solution.
###