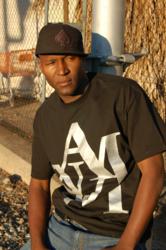 We're always excited to add uniquely talented artists to our label and Tristate is no exception
Vancouver, BC (PRWEB) May 18, 2011
Wandering Worx Music announced today the latest addition to its multitalented roster – L.A. hip-hop artist TriState, whose album drops later this year on the Canadian record label.
A member of the Gold Chain Military, which also features Wandering Worx artist Planet Asia, TriState has been building his hip-hop career since he first started rhyming in 1992. His triple threat status comes from the three most notable characteristics of his style – a husky toned vibrato combined with clever lyrics and charismatic delivery.
"We're always excited to add uniquely talented artists to our label and TriState is no exception," says Wandering Worx co-founder Rodney Davidson. "We can't wait to create magic with him in the studio for his upcoming debut with Wandering Worx, and give hip-hop fans out there something fresh and unexpected."
Although TriState is a new artist for Wandering Worx, he's already a seasoned performer with an impressive resume. He's been featured on tracks produced by some of hip-hops most notable talent including DJ Khalil (Self Scientific, Dr. Dre, Jay-Z, Raekwon, G-UNIT and The Game) and Thayod Ausar (Xzibit and Lloyd Banks), as well as The Alchemist, Statik Selektah and he's worked alongside Ne-Yo, King T, XClan, Ras Kass, Tha Alkaholiks, Bad Azz and many others.
Based in Vancouver, BC, Wandering Worx Music launched in October 2010 as the official record label of Wandering Worx Entertainment. The label's debut release, Rel!g!on's 'Revelationz 1', garnered critical acclaim, with the record's first single 'Lucid', featuring Moka Only and E.D.G.E, in rotation on Much Music. The label is also working closely with Grammy-winning Vancouver producer Chin Injeti, who produced two tracks on Eminem's Recovery, which won Best Rap Album at the 2011 Grammy Awards.
###