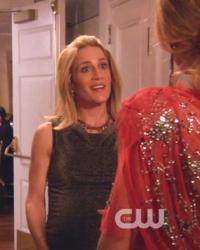 I am in love with using pyrite gems as it is elegant, makes a statement, and shimmers like gold, says the designer Julie Liu.
New York, New York (PRWEB) May 19, 2011
As season four of Gossip Girl comes to a close in an explosive finale, the author of the book series Cecily von Ziegesar, makes a cameo appearance as herself wearing jewelry by TZEN Boutique. The Wrong Goodbye included the return of Georgina Sparks (guest star Michelle Trachtenberg) and Constance Billard mean girls Kati and Is (guest stars Nan Zhang and Nicole Fiscella), a cameo by "Gossip Girl" author Cecily von Ziegesar, a performance by Airborne Toxic Event and a few very juicy cliffhangers. Blake Lively, Leighton Meester, Penn Badgley, Chace Crawford, Ed Westwick, Jessica Szohr, Kelly Rutherford and Matthew Settle all star in the final episode of season four.
TZEN jewelry continues to be showcased repeatedly on Gossip Girl. The jewelry designed by Julie Liu remains highly present, as it has been perpetually integrated within the dynamics as well as the prevailing styles and trends of the leading female characters on the show. TZEN is a collection of edgy and trendy pieces, yet perfect for a classic and stylish woman. Each design is a limited collection piece with no more than fifty produced at a time. TZEN is a high-end couture jewelry line that is affordable and trendy.
"I am in love with using pyrite gems as it is elegant, makes a statement, and shimmers like gold", says the designer Julie Liu.
The necklace worn by Cecily von Ziegesar is the Golden Rutilated Quartz Necklace. Made of faceted pyrite, golden rutilated quartz, briolette and 18k gold overlay. It is romantic and beautiful and will dress up any outfit. The necklace is priced at $510, and can be found at high-end boutiques and online at TZENBoutique.com.
ABOUT TZEN:
"Be Bold, Be TZEN" - TZEN Boutique is inspired by fashionable women around the globe. Lush colors, vibrant designs and most importantly, fashion forward designs with a tint of classics. Each piece is carefully crafted and designed by Julie Liu in solid precious metal and gemstones.
TZEN is an award winning collection of unique limited collection jewelry made with bold colored gemstones that fuses Italian couture with Asian intricacies. Pieces are meant to take you from day to night. Each piece is handmade and is available in luxury boutiques around the United States and online at TZENBoutique.com. TZEN is adorned by celebrities like Blake Lively, Kelly Rutherford, Rachael Ray, Tika Sumpter, Chelsea Handler, etc., and on TV series such as Gossip Girl, Chelsea Lately, Rachael Ray Show, WGN, NBC, Behind the Burner, etc. TZEN is a versatile jewelry line with a couture twist.
ABOUT GOSSIP GIRL:
Gossip Girl is The CW hit television series airing on Monday nights paying tribute to the latest high-end fashion. With the same costume designer as Sex and the City, Gossip Girl is already taking the lead as the series to watch for the latest designer couture as well as the juicy story line of socialites and the privileged (Kelly Rutherford as Lily van der Woodsen, Leighton Meester playing Blair Waldorf, Blake Lively as Serena van der Woodsen) from the Upper East Side of New York. Filmed in New York and based on the popular series of young-adult novels by Cecily von Ziegesar, Gossip Girl.
# # #