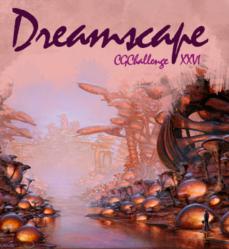 A strange and surreal concept, beautifully realized.
Adelaide, South Australia (PRWEB) May 20, 2011
CGSociety's 26th CGChallenge called for digital artists to create, via a still image or video, a Dreamscape of boundless possibilities, designed to amaze and inspire the world. They could use any style, from comic to photorealistic, and any subject matter which could be dreamed up. Big prizes from CG movers like NVIDIA and Maingear were on offer.
Digital artists from around the world were challenged to delve into the world that lies behind closed eyes. Where sleep transports us to a new reality; realms are conjured from our greatest hopes, deepest secrets or even our darkest fears. Whether it's a dream for a better, more sustainable world; a brighter future powered by technology; or, a surreal landscape populated by the bizarre. Lie back, close your eyes, and enjoy the ride as we leave the cold reality of waking life and enter the Dreamscape.
The Master Award winners of the three main prize categories - Individual Video, Team Video, and Image - all showed not only outstanding technical ability but were also able to successfully create a video or image depicting the essence of Dreamscapes.
The Individual Image Master was awarded to Canada's David Forest (Frotze) for his 'Respite of a Woodchoper' image. This depicts a lumberjack - with a surreal difference. Judge and winner of one of CGSociety past CGChallenge Michael Dashow, called this one, "A strange and surreal concept, beautifully realized."
The Individual Video Master Award went to Malaysia's Bram Lee Chin Horng (BramLeeCH) for his 'Mirare' . This beautifully rendered work sends us on a journey through the fantastic scenery of a dream. The artist said of his work, "It is more than just an entry for the CGChallenge, but it is actually my exploration for more knowledge in art and design."
The Video (Team) Master Award went to the 'Ned, the Sleep Walker' team from France. The team consisted of Aurélien Rantet (Aurel0988), Jonathan Duval (johd) and Adrien Forestier (oub0roros). This fun video shows how a walk through a dreamscape affects a man in the real world.
A full list of winners for the Dreamscape CGChallenge and their winning entries can be viewed here. Previous CGChallenges can also be viewed at The CGSociety website
Prizes were also awarded for best Modeling, Texturing, Animation, Lighting, Visual Effects, Landscape/Matte Painting, Art Direction, Compositing and Editing, Best Character, Concept Art and Digital Painting.
The sponsors were: MainGear, NewTek, NVIDIA, Chaos Software, Dosch Designs, Luxology, E-On, Pixologic, Maxon, Corel, SideFX, Smith Micro, RocketBox, Evolve 3D, The Foundry, StudioGPU, Gnomon Workshop, ImagineFX, NPower Software, 3D Via, Craft Animations, TopOGun, Evermotion, 3Dcoat, XFrog, Stash Media, ZBrushWorkshops, Digital Tutors, Imagineer System, 3D Connexion, Ballistic Publishing and CGSociety.
This CGChallenge's judging panel included a heady mixture of veterans and rising stars, who have worked for the likes of: Weta, Framestore, The Moving Picture Company, Blizzard Entertainment, Brøderbund Software, on game and film titles such as 'Harry Potter: Order of the Phoenix', 'The Dark Knight', 'Avatar , 'Inception', 'Diablo II', 'Diablo III', 'The Pan's Labyrinth', VFX Oscar winner 'The Golden Compass', 'The Tale of Despereaux', and 'Clash of the Titans'.
The judging panel consisted of: Danny Geurtsen, Caroline Delen, 2011 VFX Oscar winner Paul Franklin, David Wright, Michael Dashow, Tomasz Jedruszek, Samuel Poirier, Szymon Biernacki, Juraj Molcak, Mark Snoswell, Leigh A. van der Byl and Anton Fletcher. Entrants needed to dream big to impress these CG luminaries!
About The CGSociety:
The CGSociety is the most respected and accessible global organization for creative digital artists. The CGSociety supports artists at every level by offering a range of services to connect, inform, educate and promote, by celebrating achievement, excellence and innovation in all aspects of digital art. The CGSociety, along with its sister organization Ballistic Publishing, is a division of Ballistic Media.
###