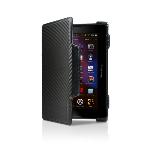 The BlackBerry PlayBook is designed to give users what they want.
Hollywood, FL (PRWEB) May 18, 2011
Marware, a leading mobile-device accessories company, is now accepting pre-orders on its line of BlackBerry PlayBook cases.
Marware's C.E.O. Hybrid PlayBook case is designed to protect the tablet against damage with its hard shell exterior and gently padded, scratch-resistant interior. The sophisticated cover offers an innovative comfort strap that fits securely around the hand allowing users to enjoy the PlayBook while relaxing, walking or even shooting video. The C.E.O. Hybrid PlayBook case offers protection, support and an enhanced tablet experience.
One of Marware BlackBerry PlayBook covers consumer favorites is the multifunctional DuoShell Fuse made of a combination of hard plastic and soft rubber uniquely designed as one, snuggly-fit piece. The DuoShell Fuse is also equipped with an innovative foldaway kickstand designed to enhance the tablet's widescreen display and video calling features. Also included are an anti-glare screen protector and a microfiber cleaning cloth.
Research in Motion recently released its extremely portable tablet, the BlackBerry PlayBook, selling 50,000 units on day one. The PlayBook's manageable 7" screen and 1 GHz processor allows users to easily navigate between apps, Internet and video functions making the PlayBook the perfect tablet option for casual users as well as busy executives.
In describing the PlayBook, President and Co-CEO of RIM, Mike Lazaridis stated, "The BlackBerry PlayBook is designed to give users what they want, including uncompromised web browsing, true multitasking and high performance multimedia, while also providing advanced security features, out-of-the-box enterprise support and a breakthrough development platform for IT departments and developers."
Lazaridis went on to say, "RIM set out to engineer the best professional-grade tablet in the industry with cutting-edge hardware features and one of the world's most robust and flexible operating systems."
BlackBerry PlayBook users who enjoy the versatility, power and speed of this dynamic tablet can protect their investment with a well-designed cover. Look for BlackBerry PlayBook cases that not only protect, but enhance the tablet experience like those offered by mobile-accessories industry leader Marware.
Both of the Marware BlackBerry PlayBook covers are now available for pre-order at http://www.Marware.com/tablet-cases-and-covers/playbook-cases.
Marware Inc. is an independently-owned, U.S.-based corporation whose primary focus is designing and producing accessories for Apple, Amazon Kindle, and mobile electronics markets. Committed to quality over price, Marware started a wave of responsibility in the mobile community with an emphasis on environmentally-sensible products and charitable giving to distressed communities and ecological causes.
Visit http://www.Marware.com/tablet-cases-and-covers/playbook-cases to pre-order your PlayBook case today.
###