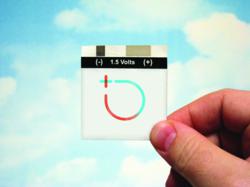 We are proud to promote the intelligence of our readers and to look for many lucrative industrial applications of printing.
Cincinnati, OH (PRWEB) May 23, 2011
ST Media Group International, a Cincinnati-based publisher of information products for both the design and signage/graphics industries, has launched the VISIONARY INNOVATOR: Find a Use for This Battery Contest in Industrial + Specialty Printing (iSP) magazine. ISP covers functional and decorative printing done as part of the manufacturing process.
Sponsors for the contest are Blue Spark Technologies of Westlake, OH (manufacturer of the 1.5v printed battery) and NorTech of Cleveland, OH (a nonprofit, technology-based economic development organization).
The readers of Industrial + Specialty Printing magazine are challenged to find a novel use or application for Blue Spark's 1.5v printed battery and become a VISIONARY INNOVATOR. An article by Matt Ream, VP at Blue Spark, in the July/August edition of iSP explains how the battery is made and suggests a few uses. Applicants may obtain a battery and also submit their best idea for a practical use of the battery (in 800 words) at the Industrial + Specialty Printing website.
The deadline for submission is September 16 with the winner selected by September 30. There is no cost per submission.
Independent judges have been selected from diverse industry backgrounds including a professor, a practicing engineer, and a product design engineer. Each submission will be judged for originality, low-cost production, environmentally friendly materials, commercial viability, and practicality.
The winner receives $200 from NorTech, a full-page, four-color article in iSP magazine, and recognition for being a VISIONARY INNOVATOR.
"We are proud to promote the intelligence of our readers and to look for many lucrative industrial applications of printing," said Gail Flower, editor of iSP.
The publication will also feature cutting-edge features, industry news, and new products to help printers transform processes and increase output. More than 12,000+ subscribers, including in-plant operations within Fortune 500 companies, as well as contract decorators and commercial printing companies, will receive the magazine.
Industrial + Specialty Printing taps various markets including (but not limited to) automotive; medical; electronics, membrane switches, and flex circuits; RFID; OLED; solar cell and energy; consumer products manufacturers; and decals, labels, and nameplates. Plus, assorted printing processes featured include screen printing, inkjet printing (and other digital imaging technologies), pad printing, hot stamping, in-mold decoration, die cutting, and other finishing processes.
Interested readers may subscribe by visiting industrial-printing.net or calling 800-421-1321/513-421-2050, ext. 0. To advertise or receive a media kit, call group publisher/sales manager, Steve Duccilli, at 513-263-9344/800-925-1110, ext. 344. You can also contact Steve via email at steve(dot)duccilli(at)stmediagroup(dot)com. A media kit is also available on industrial-printing.net.
Located in Greater Cincinnati, ST Media Group International Inc. serves the visual communications industries with its trade publications, branded websites, a custom book division and industry events. Publications include Visual Merchandising and Store Design, Screen Printing, Signs of the Times, The Big Picture, Hospitality Style, Boutique Design, Package Design Magazine, and Signs of the Times & Screen Printing en español.
NorTech is a regional nonprofit technology-based economic development organization in Northeast Ohio. Member organizations leverage their collective competencies to maximize the ability to find, compete for, and capture funding and new business. For more information, please go to nortech.org.
Blue Spark Technologies is a Westlake, OH-based manufacturer of printed batteries. Initially launched in 2003 as Thin Battery Technologies, the company's goal was to develop thin, flexible printed batteries built on IP (intellectual property) acquired from Eveready Battery Company (now Energizer). The patented IP was the result of years of Eveready knowledge, experience, research, and development.
In the first few years, private investors further developed, tested and commercialized this revolutionary technology.
To signal the next stage of growth and adoption of thin printed battery technologies, the company evolved to become Blue Spark Technologies, delivering a robust expanded product line with large-scale production capabilities.
All Blue Spark batteries feature: 1.5v/cell carbon-zinc MnO2 chemistry; co-planar architecture for ease of integration; recyclable materials; flexible 40mm bend radius; -30 to +50˚C operating temperature; and energy capacity dependent on size. For more information, please go to: bluesparktechnologies.com.
###