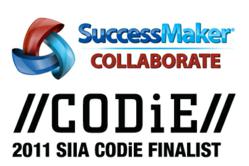 New York, NY (PRWEB) May 18, 2011
SuccessMaker Collaborate is a finalist in the prestigious 2011 Software & Information Industry Association (SIIA) CODiE Awards. Pearson's K-8 interactive instructional program developed exclusively for interactive whiteboard technology is honored in the Best Educational Use of a Device-Specific Application category.
Established in 1986, the CODiE Awards celebrate outstanding achievement across the software, digital information and education technology industries. Nominated products undergo an intensive review by subject matter experts, analysts, journalists and other respected authorities in education technology.
SuccessMaker Collaborate captures the imagination of students and teachers by fostering creativity and cooperation while providing differentiated instruction on any brand of interactive whiteboard. SuccessMaker Collaborate combines best-practice principles of multimedia and instructional design, with a strong focus on educational outcomes, to deliver methodologically sound, purposeful instruction through lessons and activities, developed through intensive observational research in real classrooms.
"As an increasing number of teachers have interactive whiteboards in their classrooms, they want powerful, standards-based programs that leverage the power of this technology to engage young learners. SuccessMaker Collaborate provides that spark with interactive, animated content designed to appeal to visual, auditory and kinesthetic learners," said Bob Roliardi, president of Pearson Digital Learning. "We are honored to have SuccessMaker Collaborate recognized in one of the SIIA CODiE Awards' newest categories."
SuccessMaker Collaborate features lessons targeting vocabulary instruction that offers group activities for mastering key language concepts and building reading comprehension. As a part of SuccessMaker Collaborate, the vocabulary lessons are completely customizable, enabling teachers to easily add additional content or align their instruction to state standards and learning objectives. More information and a demonstration of the program can be seen at http://www.pearsonschool.com/SuccessMakerCollaborate.
For the second consecutive year, Pearson tops the list of companies with products named as CODiE finalists, with 15 innovative ed-tech and information management products earning recognition. All were developed based on the company's commitment to leveraging the power of technology and innovation to prepare today's students for success in college and careers. Pearson products earning finalist honors span the spectrum of today's breakthrough education and business technology products, such as mobile learning apps, educational games, technology-driven professional development and robust systems for managing information and data. Pearson's programs are focused on college- and career-readiness and preparing students to meet the Common Core State Standards.
In addition to SuccessMaker Collaborate, the company's products moving on to the next round of competition in this year's CODiE Awards are Briggs/Cochran Calculus; enVisionMATH: Understanding Fractions; EQUELLA; Grammar Jammers Primary Edition; Hospitality and Tourism Interactive; MyLiteratureLab; MyMathLab Algebra I and II; MyMathTest; MyReadingLab; myWorld Geography; PowerSchool; PowerTeacher; SuccessMaker; and Words Their Way Online Workshop.
In the next step of the CODiE Awards process, SuccessMaker Collaborate will be voted on by the entire SIIA membership, who determines the winner in each category. The CODiE Awards will be announced at the 2011 Ed Tech Industry Summit in San Francisco on May 23.
About Pearson
Pearson, the world's leading learning company, has global reach and market leading businesses in education, business and consumer publishing (NYSE: PSO).
For more information, press only:
Lisa Wolfe, L. Wolfe Communications, 773-227-1049, lwolfe(at)lwolfe(dot)com
###