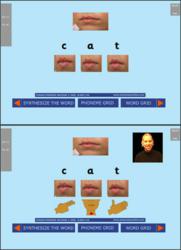 I am surprised that my decision to use a sensible and fun programme is being undermined. How can anyone teach English phonics without referring to a THRASS chart?
(PRWEB) May 20, 2011
A high quality phonics programme, pioneered by a British educational psychologist and used successfully for many years in a number of countries, has now, to the astonishment of many in the education world, been rejected by the British Government in its recent reassessment of phonics programmes for using pictures and the alphabet, despite scoring 10 out of 10 in an almost identical assessment less than four years ago.
In a departure from previous thinking, the current British Government believes that young children should be taught to read using only simple letter sounds (synthetic phonics) and should be prevented from using pictures and words they already know by sight to help them read new words (analytic phonics). In the Government's revised core criteria for assessing phonics programmes, the teaching of letter names is therefore forbidden both in the initial stages and also for older children who have problems with reading and/or spelling.
However, educational psychologist and pioneer of the THRASS (Teaching Handwriting Reading And Spelling Skills) programme, Alan Davies, who was previously held in such esteem by OFSTED that he was invited to apply for the post as first National Literacy Director (an invitation he declined), firmly believes that learners should be given the 'big picture' about the sounds and spellings of English and that the best way to do this is through using pictures, keywords and letter names. In the THRASS programme, parents and teachers are therefore encouraged, from the outset, to share picture books with young children, and to re-read favourite stories, in order to first develop essential speaking and listening skills, a bank of words recognised by sight, a growing understanding for the meaning of words and a life-long love of reading. Children are also encouraged to use spoken sequences and rap music soundtracks to learn the letter names, so that they can easily identify the letters in a new word, before being helped to work out which letter or letters represent a particular sound and then finally blending all the sounds together to read the whole word. And there is support for Davies' approach to using a combination of both synthetic and analytic phonics for teaching children to read from many others in the education world.
One of the reasons THRASS failed the British Government's reassessment was that it was not considered to 'demonstrate that phonemes should be blended, in order, from left to right, all through the word for reading', an assessment that Davies finds hard to believe for a programme that includes the Phoneme Machine software (with moving human lips), Sound It Out software and Phoneme-Grapheme (sound-spelling) resources. He also believes that THRASS was incorrectly assessed against the criterion that programmes should 'present high quality systematic, synthetic phonic work as the prime approach to decoding print', as he considers that the Government evaluators, who were appointed on the basis of competitive tender, wrongly interpreted the word 'prime' as meaning the 'sole' or 'only', rather than 'main' approach. He is however pleased that they recognised that THRASS teaches a combination of synthetic and analytic phonics, which is why it is so highly regarded in such a large number of schools in so many countries!
OFSTED's reports repeatedly show that the reason a large number of Key Stage 2 children continue to under-perform in reading and spelling is because they continue to read words by giving each letter only one sound instead of using the various different sounds for the one-letter, two-letter, three-letter and four-letter spellings that they see in even the simplest of words. Davies therefore feels that it is particularly unfortunate that the British Government appears to have allowed itself to be blinkered by the 'Synthetic Phonics Only' lobby and, as a result, does not fully appreciate how the English should teach English!
And because the Government intends to provide funds only for its approved phonics programmes, Davies believes that, "All the primary headteachers in England who share my beliefs and want a programme that provides continuity through the two key stages, which is particularly important for those with special needs and for immigrant children who may join the school at any time, will now be penalised financially or, worse still, encouraged for financial reasons to use a programme that they do not feel is best for their pupils." Cathy Higgins, Headteacher, Oxley Park Primary, Milton Keynes, summed up the situation, "I am surprised that my decision to use a sensible and fun programme is being undermined. How can anyone teach English phonics without referring to a THRASS chart?".
Davies is particularly concerned because "The Government's reassessment process was supposed to focus on the teaching of phonics to five- to seven-year-olds (Key Stage 1) but the rejection of the THRASS programme will impact upon all the THRASS resources and their use with all age groups, even though many of the resources are very highly-regarded for teaching synthetic and analytic phonics in Key Stage 2 and beyond, and in a good number of secondary schools for dyslexics and children with special needs."
"In these days of increased freedom for schools and the Government's wider emphasis on localism, I find it very odd that there is no right of appeal against the rejection of a phonics programme by the Government's evaluators and odder still that the Government should be seeking to influence a school's decision as to which programme is best for its pupils through the provision of financial incentives. History is very soon going to prove that the Government has adopted completely the wrong strategy!" concluded Davies.
For more information about the THRASS approach to teaching literacy and why it differs from the British Government's approach, visit http://www.thrass.co.uk/tentenplus.htm
For information about the British Government's revised criteria for an effective phonics programme and the reassessment process, visit http://www.education.gov.uk/schools/teachingandlearning/pedagogy/teachingstyles/phonics
Issued by: THRASS UK News Media Centre http://www.thrass.co.uk/nm.htm
Mike Meade, Media Director, +44 1829 741413 Mob: +44 7970 151 738
Chris Griffiths, International Development, +30 698 101 8036
###