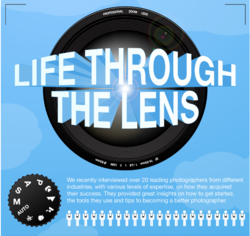 The infographic looks at personal preferences and industry trends of 22 professional photographers.
(PRWEB) May 20, 2011
If a picture is worth a thousand words, then an image released on SmartPress.com speaks volumes. The recently published infographic looks at personal preferences and industry trends of 22 professional photographers.
The infographic – along with interviews with each photographer - can be found at http://blog.smartpress.com/photography-we-like/photographers-life-through-the-lens-infographic.
The interviews revealed several key insights, including preferred camera, software and opinions on digital versus film photography.
According to the interviews, an overwhelming majority of photographers – roughly 95% - prefer relatively inexpensive cameras such as Nikon and Canon to high-priced counterparts like Mamiya and Hasselblad.
Unsurprisingly, photographers embrace digital photography over film. While 72% of photographers have used film in the past, only 5% continue to use it. Common objections to film include time wasted on changing rolls and working in a darkroom.
But there is still a place for film, some say.
"The one main reason people should learn on film is so that they have to really learn how to use the camera," says Kerry Garrison, a full-time photographer based in Tustin, California.
Digital photography requires software for post-production elements such as lighting, smoothing textures and enhancing or reducing colors. Among those polled, approximately 90% of a photographer's time in front of a computer is spent on Lightroom, the de facto standard for post-production digital work. The remaining 10% was spent on Photoshop, a digital image editing application.
The interviews also polled photographers on which types of photographs they commonly worked with. Popular choices were travel, portraits and weddings, though an unexpected trend was in boudoir photography. Boudoir – a form of photography which usually includes sensual pictures of women in lingerie – has been gaining momentum over the past few years.
The largest client base for boudoir photos are engaged women (who surprise their future husbands), though anniversaries and other special occasions are growing in popularity as well.
The infographic is available for distribution and can be found at http://blog.smartpress.com/photography-we-like/photographers-life-through-the-lens-infographic
Smartpress
info(at)smartpress(dot)com
888.934.6909
102 Jonathan Boulevard North
Chaska, MN 55318
###