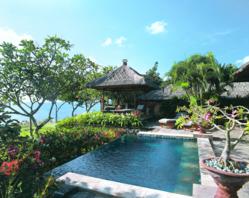 Win 2011's Ultimate Honeymoon Competition with Quintessentially Travel and The Luxury Channel
London, UK (PRWEB UK) 23 May 2011
You've chosen the dress, deliberated over the venue and even decided upon the centre pieces, but wait, what about the piece de resistance – the honeymoon – the holy grail of celebrating your wedding? This is your once-in-a-lifetime chance to win a romantic luxury holidays Bali getaway where indulging and whiling away the day in utmost luxury with your loved one is a guilt-free right! But it has to be perfect…
Brides and grooms need not despair - the masters of travel couture are here to take care of you; Quintessentially Travel has teamed up with The Luxury Channel's Wedding Diary to launch, 2011's http://www.ultimatehoneymooncompetition.com offering one lucky couple the chance to win an unforgettable luxury honeymoon Bali.
The winner of the competition will be sent on an extravagant 10-day honeymoon voyage to the exotic island of Bali, worth £8,000. The prize includes return flights, transfers, a stay in three of the island's most glamorous resorts - Ayana Resort & Spa in Jimbaran Bay, Uma Ubud and W Retreat & Spa Seminyak. The lucky couple will also be taken on private tours of the island, receive lots of honeymoon pampering, gastronomic delights and couple's souvenirs from the magical and enchanting land where serenity and cultural charm live in abundance.
What's more, they will be treated to a Honeymoon Hamper including a his-and-her VIP style-consultation with heidi klein plus £1,000 worth of fabulous beachwear ensuring they look hip and stylish on the beach. They will also walk away with celebrity make-up artist Daniel Sandler's 'Bridal Beauty kit' – filled to the brim with all the make-up treats you could possibly require on your honeymoon, Ila Spa's 'Glowing Radiance Range' of oils and creams and a bottle of Sunleÿa Soin Solaire – Sisley's iconic sun-cream for natural and safe bronzing.
If idyllic vistas over tropical shores, secret sands, cool green forests, rice paddies with gentle breezes combined with delicious local delicacies, VIP pampering and indulgences, sounds like your dream post-wedding escape? Then ENTER NOW by visiting http://www.ultimatehoneymooncompetition.com and tell our Travel Panel in 200 words why we should send you and your love on 2011's Ultimate Honeymoon.
Entry deadline is 31st May 2011. The winner will be announced on 6th June 2011. Terms and conditions apply.
Notes to Editors
Quintessentially Travel is a bespoke luxury travel company available to both the discerning public and Quintessentially members that will advise on and help create tailor-made itineraries the world-over.
Quintessentially Travel specialises in creating unforgettable tailor-made itineraries to the globe's most glamorous, sought-after and remote destinations; organising everything from flights, transfers, hotels and villas to private jets, yachts, private tours and drawing on Quintessentially's expertise "access to the inaccessible."
The Quintessentially Travel specialists are the finest connoisseurs - they know the hotel suite with the awe-inspiring view and the quietest location; the secret sands and crystal clear waters; the most authentic gastronomic feasts; the most sublime massage; the best in bespoke tailoring and the ultimate off the beaten track experience.
So whether it is a simple beach, city or safari break, to a bespoke, experiential trip in the far-flung lands of China, dining on an iceberg in New Zealand, impersonating James Bond by heli-skiing in Switzerland, organising a private island soiree at the 'application only' property in Fiji, to trailing the Gorillas in Uganda with a National Geographic presenter, we've got it covered and more.
To enquire about this exceptional service and experience an unforgettable tailor-made holiday with Quintessentially Travel visit http://www.QuintessentiallyTravel.com, email Info(at)QuintessentiallyTravel(dot)com or call 0845 269 1152.
# # #