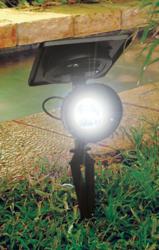 This is the biggest, brightest, most versatile solar spot light we have ever made. The perfect product for up-lighting trees, shrubs, signs or to accent any part of your beautiful home. And no special wiring is needed!
Atlanta, GA (PRWEB) May 19, 2011
Gama Sonic USA, the leading manufacturer of high quality solar lighting, introduces its newest solar lighting product, the Progressive solar spot light.
The Progressive solar spot light is packed with features and versatility. The 2-watt solar panel can remain fixed to the spot light housing or can be removed, placed onto its own ground stake and re-positioned for optimum sun exposure up to 6' away. An adjustable focus lens allows for a narrow or wide light beam. The powder-coated cast aluminum construction, on both the spot light housing and surrounding the solar panel, is weather resistant, thus requiring no maintenance. The Progressive solar spot light comes with an efficient lithium-ion battery pack for better performance and a longer battery life than the standard Ni-Mh batteries. Finally, with its on-board light sensor, the spot light automatically comes on at dusk and will last 10-12 hours on a single day's solar charge. Comes with a one-year manufacturer warranty.
Roy Salsich, Sales & Marketing Manager says, "With our impressive solar lighting lineup and all the excellent reviews covering our products, we are helping consumers greatly enhance their outdoor lighting experience without adding a penny to their already expensive electric bills."
The Progressive solar spot light is available now through many internet authorized retailers. Click on this link website for a list of authorized dealers and to retrieve your coupon code to get the Progressive solar spot light for the introductory price of $79.99! That's over 30% off the MSRP price of $115.99.
###