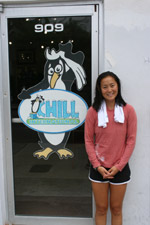 Key West, FL (PRWEB) May 20, 2011
"I tend to run in the early morning and late night during the summer, but the other day I got the bug to run around 11 a.m. It was very hot, so for the first time, I brought a CHILL Towel with me for my five-mile run, wearing it on my head under my visor. I ran two extra miles and at a faster pace than I normally run even on a cool day. I felt cool."
J. Moffitt, Personal Trainer, Key West, Florida
Independent testing show that CHILL COOLING TOWELS are 20 to 30 degrees cooler than the body's temperature right out the package, and the new Cool Save zip-lock packaging allows the cooling towel to be saved and ready for use up to 4 times a day for 15 minutes, lasting for 8 days or 32 uses.
CHILL developed the new Cool Save zip-lock packaging based input from customer input adding value to an already successful product.
Customers have told CHILL that oftentimes just a quick cool down is needed – between meetings, on shopping trips or anytime, anywhere a refreshing, cooling moment is welcomed. This new Cool Save zip-lock packaging is the solution as it is easy to open – and close – saving the instant cooling towel for its next use.
The new zip-lock packaging is currently available in both the 10X10 hot flash relief towel and the 12X12 (one square foot) towel that is perfect for many instant cooling needs. The medium 12X20 and large 12X27 (over two square feet) towels will be available soon in the new Cool Save zip-lock packaging.
CHILL Cooling Towels are soft, 100% terry cloth cotton towels that are pre-moistened with a unique, patent-pending, all-natural formula to instantly cool, refresh and energize on contact. They are especially formulated to aid in the evaporation of sweat, thus cooling the body faster.
CHILL has created its own product category, is patent pending and is represented in 26 countries around the world and its sales have more than doubled each year since CHILL was introduced at the Orlando PGA Show in 2007.
And now with exclusive new Cool Save zip-lock packaging, CHILL continues to lead the way in instant heat relief – the world over.
###