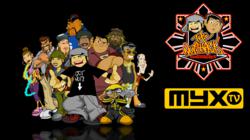 The characters were a blast to bring to life, there is such a diverse cast within the show. It's not everyday you try and create a 60 year old Pinoy mack or an out of control cyborg tarsier.
Redwood City, CA (PRWEB) May 18, 2011
MYX TV does it again! Denting the landscape of animation, the only true Asian American television network airs its second all-original season of The Nutshack, the animated comedy series. The series airs on MYX TV on Tuesdays at 10:30PM pacific and 1:30AM eastern standard time.
The Nutshack is set in the notorious Tenderloin district of San Francisco and follows the adventures of Phil, the street-wise San Francisco native and his recently imported Filipino cousin, Jack. Together, in one of the most exciting neighborhoods of the city, they encounter the craziest people and most surreal situations imaginable. The motley crew of misfits that surround Phil and Jack - a Vietnamese transvestite, a stoner mechanic, a Mexican gangster, a mumbling bum, a gay wrestler, a midget pimp, a talking monkey, an overly intrusive landlord, and their womanizing uncle, Tito Dick - make this cartoon one the funniest animated shows to hit the airwaves.
The style of The Nutshack is noticeably different from any show out there. Art Director, Jesse Hernandez, explains that the character designs are richly detailed, and the skewed backgrounds are true to the urban settings they depict. Everything in the show has a unique look to it, from color to form. "It's a fusion of urban graffiti with some anime and comic influences," says Hernandez. "I was trying to push the limits of what you can do with flash animation and get the design to a point where people wouldn't focus on how it was made."
Hernandez describes most Flash cartoons as simplistic as opposed to The Nutshack. "The characters were a blast to bring to life, there is such a diverse cast within the show. It's not everyday you try and create a 60 year old Pinoy mack or an out of control cyborg tarsier."
The Nutshack is one of the most hilarious shows you've never heard of. It's managed to stay relatively underground for the past 6 years. Brainchild of Filipino American, Ramon Lopez, its creative team consists of extreme artists.
"The Nutshack adds to the landscape of MYX TV's programming as our only original mature animated series starring Asian Americans," states Joy Bovatsek, Head of Programming for MYX TV. "The Nutshack is one of MYX TV's hallmark shows that pushes the boundaries, the way The Boondocks does for Adult Swim."
Some of its famous voices include those of Asian American comedian, Joey Guila, Nutshack founder Ramon Lopez, MYX TV hosts Jesse Hernandez and Olivia Speranza, Rhia Abarquez and "Dash" Elmore.
Earlier season DVDs are available for purchase on http://www.myx.tv. Late night TV has never seen this much edgy entertainment.
ABOUT MYX TV®:
With its U.S. headquarters in Redwood City, California, MYX TV was developed by ABS-CBN International, a subsidiary of ABS-CBN Corporation, the Philippines' largest entertainment and broadcasting company, through ABS-CBN Corporation's wholly-owned subsidiary, ABS-CBN Global Hungary Kft. MYX TV is the premier music entertainment and lifestyle channel dedicated to the Asian American community, utilizing music, culture and entertainment. MYX TV can be seen on Channel 368 on Comcast's Digital Preferred Tier in the San Francisco Bay Area and Central California and Channel 673 in Chicago, Cox Digital Basic Cable Channel 479 in Orange County and Channel 474 in Northern Virginia, MCV Cable Channel 16 in Guam and RCN Channel 464 in New York City, Chicago, Boston, Philadelphia and Washington, DC. It is available nationwide on DirecTV channel 2067. For more information, visit http://myx.tv.
Media Assets:
TV Commercial: http://bit.ly/iuIDzi
###