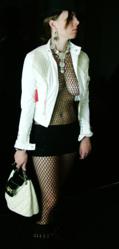 Los Angeles, CA (PRWEB) May 25, 2011
Project 2011, a unique 2-day Beauty and Fashion Extravaganza, announces a casting call for new fashion designer, "CLOTHING, ACCESSORY, SHOE, and JEWELRY DESIGNERS" on July 30, 2011 in Hollywood, California. Those involved will be given the extraordinary opportunity of having their work showcased as "opening acts" for some of the most recognized designer brands in the industry. At the Extravaganza in October the young designers will meet established fashion designers, buyers, editors, stylists, celebrities, press and other fashion industry professionals.
Pre-registration for the casting call, which is open to all up-and-coming Fashion Designer is required. Applications and complete guidelines are available online at http://www.project2011.com/main/young_designer.php.
Designers must bring up to three pieces of their collection to the Los Angeles casting call for approval. Project2011 will run each item through a quality control process to ensure that it adheres to standard department store inspection guidelines.
Project2011 will provide the venue as well as full production set-up, including state-of-the-art lighting, sound, staging, models backstage crew and security.
"The Project 2011 concept started with our desire to create an environment in which young people entering the beauty industry could interact with and learn from seasoned professionals," explains Executive Director Bijou Champagne. "Project 2011" Beauty and Fashion Extravaganza is expected to attract major players in the industry. We encourage all young fashion, jewelry, shoe and bag designers to apply to participate in this potentially career-changing event."
International applicants are also welcome to apply, although they are not expected to travel to the July 30 casting call. International applicants should follow the instructions listed on the "international" tab at http://www.project2011.com/main/young_designer.php.
###