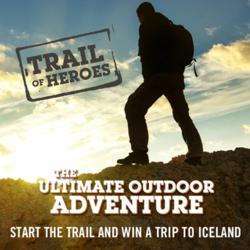 Rediscover the environmental treasures hidden in European cities
(PRWEB) May 20, 2011
The series of events will be launching in Paris, Brussels, Madrid, London, Milan and Berlin in May. The aim of this high-tech outdoor treasure hunt is to encourage people to rediscover the environmental treasures hidden in these great cities by harnessing every day technology in their search for geocaches, rewards and fun.
For all those taking part the rewards are multiple: besides the satisfaction of discovering beautiful outdoor locations, the geocaches, the give-aways and the joy of adventure, Timberland is offering a hiking trip to Iceland.
As of today anyone can Sign Up for the Trail of Heroes by:

Visiting the "Trail of Heroes" campaign page. http://tree.li/trailofheroes
Registering for a free Geocaching.com account.
Entering postal code and clicking on 'search'.
Choosing a geocache in your city.
Entering the coordinates of the geocache into a GPS enabled Device. (iPhone, GPS, Android, Nokia).
Using a GPS device to assist you in finding the hidden geocache.
Loading the codes on the "Trail of Heroes" campaign site.
In addition to the "Trail of Heroes" and coming full circle,
Timberland Europe launches its latest mobile app for iPhone and Nokia.
Combining Location-based technology, Rewards and Eco-friendly values, the Timberland app gives you the ability to track the miles that you walk or cycle and receive miles for each tree you plant.
It is perfect for people who love the outdoors or for people who want to do more for the environment and become one of nature's heroes.
Different milestones have been set to keep you motivated.
Top milestones even enable you to 'give a tree' to chosen projects in the EU. The more miles you collect the better the reward for you and the environment.
Download the app for iPhone here - http://tree.li/NNH_APP_ITUNES
###