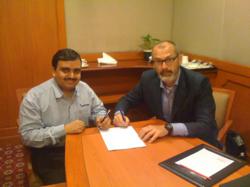 This is a very strategic JV which will herald the beginning of SatNav's efforts at integrating with the global GPS markets
Hyderabad, India (PRWEB) May 21, 2011
SatNav Technologies, India's pioneer in GPS products & map maker AND, the only independent digital mapping company in the world today announced plans to set up a Joint Venture based on shared vision and complementary business opportunities.
From an India perspective, the deal will give SatNav access to the best mapping technologies in the world. The company will upgrade their Indian map IP in line with the standards followed worldwide. It will also give SatNav access to global markets and large clients that are already serviced by AND, since it was founded in 1984.
The deal also has ramifications from a global perspective. Through the partnership SatNav will now have access to digital data of over 200 countries around the world that AND owns. Since digital map data is the first step for building all GPS products, SatNav views this partnership as a stepping stone to launch its SatGuide range of products in other countries beyond India.
AND is very familiar with India, having set up its first base in the country in 1999 in Pune it has almost 300+ employees in a full fledged development center there. This partnership will help AND in adding India data to their portfolio of global data and thereby take it to their global customers. The JV can also be used to do in-house, work that earlier used to be outsourced to other companies in the country.
SatNav's map data of India is exhaustive, covering over 1000 cities and millions of point of interest apart from a comprehensive highway network. AND is also no stranger to SatNav, it's a sweet homecoming for one of its co-founders, Selvamuthiah Somasundaram, who was part of AND's initial team in India in 1999 for a couple of years before he moved to SatNav where he has been playing a key role for over a decade now.
Speaking on the occasion, Maarten Oldenhof, CEO, AND Data said, "India has always been of strategic interest to us, this JV now gives us the increased thrust in the region, give more value to our customers".
Amit Kishore Prasad, Founder MD & CEO, SatNav Technologies said, "This is a very strategic JV which will herald the beginning of SatNav's efforts at integrating with the global GPS markets."
For a personal discussion with the company, or to get more details please contact:
Srinivas Ram,
Sloka PR,
(M) +91 9000793986, srinivas(at)slokapr(dot)com
About SatNav Technologies
Incorporated on January 9, 2004, SatNav Technologies is a pioneer in GPS Navigation since 2005, Market leader today. SatNav's products include an immensely popular GPS Navigation Product SatGuide available at hundreds of stores all over the country including leading retailers like Croma, EZone, Reliance, ABRL, Staples among others - that is helping customers "Never Get Lost!". Variants include Navigation solutions for dedicated navigation devices, PDAs, Phones, Laptops, Desktops, SatGuide Logger among others. Also in SatNav portfolio are unique products; a Business Infrastructure Management System, a-mantra; and an online directions portal Roadsofindia.com, SatTracx Locator for mobiles, Child Phone as well as Personal Trackers and now Live Traffic Info. For more details visit http://www.satguide.in.
About AND Data:
AND provides digital maps for location-based services and is the only independent company in the global mapping market. The company focuses on the further development of its advanced digital maps to position itself even more effectively in the market. For more info visit http://www.and.com.
# # #