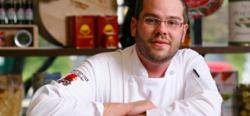 This opportunity will allow me to represent our restaurant, showcase our great team with their culinary skill, and even promote our State of Michigan!
- Chef Steven Grostick
Novi, MI (PRWEB) May 19, 2011
Executive Chef Steven Grostick of Toasted Oak Grill & Market has been honored with a rare, distinctive invitation to cook at the legendary James Beard House in New York City on July 20, 2011. Chef Grostick underscored the significance of this prestigious acknowledgment when he commented, "Cooking at James Beard House is something I've hoped to do. We're thrilled with the recognition. This opportunity will allow me to represent our restaurant, showcase our great team with their culinary skill, and even promote our State of Michigan! I can't wait to preview the exact same dinner here in Novi!"
Chef Grostick's James Beard House menu is a pure expression of his unique and inventive "I Cook Michigan" style cuisine. The regional and seasonal offerings he will present at dinners in Novi and New York City feature an array of Michigan sourced ingredients and favorite local name products (see complete menu below). Toasted Oak Grill & Market General Manager Danny Cosenzi offered his excitement about the Michigan Chef's accolade from James Beard saying, "We're all thrilled for Steven and excited about bringing a taste of true Michigan fare, spirits and wines to the James Beard House. New Yorkers are really going to love our 'Great Frickin' Chicken'!"
On Thursday, June 2, 2011, Greater Detroit area diners will have an opportunity to try Chef Grostick's James Beard House menu at a special one night only preview of the actual dinner.
Event Details – One Seating Only
Date/Time: Thursday, June 2 - Guests are requested to arrive by 6:30PM
Location: Toasted Oak Grill & Market, 27790 Novi Road, Novi, Michigan
Cost: $75.00 per person, plus tax and gratuity
Reservations: 248-277-6000 Seating is limited. Please reserve early.
If you wish to experience Chef Grostick's James Beard House Dinner in New York City on Wednesday, July 20, 2011, please go to opentable.com/james-beard-house-events, contact the James Beard House via email atreservations(at)jamesbeard(dot)org or call (212) 627-2308
~Executive Chef Steven Grostick's James Beard House Menu~
"I Cook Michigan."
~Passed Appetizers~
GREAT LAKES SMOKED TROUT RILLETTE
Black Star Farms Riesling steamed, house-smoked trout, flat bread crackers
MICHIGAN'S FAMOUS CONEY DOG
house-made mini hot dog, bad axe venison Coney sauce
FAYGO ROOT BEER BRAISED SHORT RIB
LIVER & ONIONS
Tim's Farmhouse chicken liver and duck pate, caraway onion jam, baguette
Cocktail: Michigan Cherry Manhattan
Spirit: Zeppelin Bend Whiskey, New Holland Distillery
Beer: North Peak "Majestic" Wheat Ale, Traverse City
~Dinner~
First Course-Sausage Course
TOSCANO SALAMI,
olive oil, pickled red onions
DUCK HAM,
truffle oil, cracked pepper
HUNTERS SAUSAGE,
Michigan sweet corn chutney
Wine: L Mawby Blanc De Noirs Leelanau Peninsula Sparkling
Second Course
Pickled Michigan Spring Beets butter lettuce, Tassier's Sugar Bush maple-orange vinaigrette,
Zingerman's goat cheese croquette
Wine: Chateau Chantal Pinot Blanc 2010 Old Mission Peninsula
Third Course
GREAT FRICKIN' CHICKEN
roasted local chicken breast, ballontine thigh, Long's Farm asparagus, buttered radish, grilled onion, pan jus
Wine: Black Star Farms Chardonnay "Arturos" 2008 Old Mission Peninsula
Fourth Course
PORCHETTA
Wordhouse Farms pork tenderloin rolled in house-made kielbasa and smoked bacon, spring peas and ham, Michigan chanterelles, Posen potato dumplings, mustard sauce
Wine: Chateau Chantal Pinot Noir 2008 Old Mission Peninsula
~Dessert~
FARM PICKED STRAWBERRY AND RHUBARB PIE
Ray's vanilla bean ice cream milkshake with salted caramel, Michigan infused cherry
Wine: Black Star Farms Sirius Maple Apple Wine
About Steven Grostick, Executive Chef
Steven Grostick, Executive Chef at the Toasted Oak Grill & Market since 2009, is an award-winning Chef with more than 15 years of experience as a progressive culinary professional. Chef Grostick became instrumental in the pre-planning stages of Toasted Oak Grill & Market following his tenure as Executive Chef at Table 5 in Northville Michigan. Born and bred in Michigan, Chef Grostick's passion for cooking was ignited at an early age in his family's kitchen. He went on to earn a Culinary Arts Degree from Livonia's Schoolcraft College, where he quickly found his niche in butchery and charcuterie. Chef Grostick honed his culinary skills as the Executive Chef of the award-winning Five Lakes Grill in Milford, Michigan, where studied and trained under James Beard nominated Chef Brian Polcyn for 11 years. Under Chef Grostick's leadership, Five Lakes was named "Restaurant of the Year" in 2005 by The Detroit Free Press. Chef Grostick has won several restaurant prestigious industry awards, including a Silver Medal in the "Culinary Super Team Challenge" in Orlando. Chef Grostick is very involved in several local food charities, including the Gleaners Community Food Bank of Metro Detroit, Taste of the NFL and Share our Strength.
About Toasted Oak Grill & Market - toastedoak.com/
Toasted Oak Grill features a regional menu with a focus on fresh & original ingredients. Dishes embrace the flavors of the countryside with daily fish & meat specials, earthy ingredients, delicious appetizers & salads. Lunch & Dinner selections include sandwiches, grilled pizzas, salads & more. Toasted Oak Market features an incredible selection of value-driven wines, house-made charcuterie, artisan cheeses, unique condiments, local Michigan specialties and other fresh comfort foods. The warm and inviting environment is complemented by friendly and knowledgeable service. Toasted Oak Market is the perfect place to find a gift for your favorite gourmand, add some interesting wines to your cellar, assemble a picnic or tailgate party, or impress your guests entertaining at home! The Market also features quick weekday lunch options.
About James Beard House
Visit: jamesbeard.org/
####