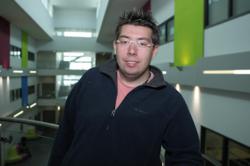 Peterlee, County Durham (PRWEB) May 19, 2011
A student from East Durham College has fought off the competition to win a place in the Barclays Money Skills National Final.
The national competition is a programme run by Barclays with the aim of helping young people to build the skills, knowledge and confidence they need to manage their money more effectively. The programme was taken to East Durham College where students were encouraged to build up their financial knowledge, skills and confidence. Students were tasked with coming up with ideas for ways them and fellow students could save money, as well as how the College and the wider community could reign in their spending and be more money-savvy. Barclays work in partnership with the National Skills Academy for Financial Services to help thousands of students improve their money-management skills.
William Gardner, 22 from Richmond and a Floristry student from East Durham College was one of three students from the Further Education Hartlepool College who won a place at the regional heats in Leeds. William came up with the idea of students saving money in an sealed tin and then cashing the money into the bank to set up a savings account, impressing the Barclays judges and winning a place in the national final. William was presented with an award by Labour's Shadow Chancellor, Ed Balls, and will now be travelling to Barclays Head Office in London's financial district, Canary Wharf, to battle it out in the National Final. The competition takes place on 1st July 2011.
About East Durham College: EDC are a further education college offering full and part time courses and training for people aged 16 and above. We specialise in a number of different courses including apprenticeships County Durham, A levels and further education Peterlee courses, as well as adult learning and staff training.
For more information, please contact Alistair Cummins-MacLeod (Marketing and Press Office) on 0191 518 8296 or 07979 756 808, or by emailing acm(at)eastdurham(dot)ac(dot)uk
###