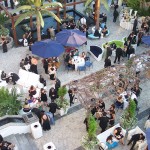 Carle Place, NY (PRWEB) May 19, 2011
Take Your Business Outside Summer Networking in the Garden Oaisis is designed to split the difference between social receptions and business get-togethers, offers a refreshing mix of informative speakers, open bar and lively entertainment in one of Long Island's most enjoyable outdoor venues. The series strategically connects senior people in vertical industry spaces, encouraging genuine business opportunities. A number of professional groups have signed on as sanctioning organizations, scheduling summer membership events within the industry networking taking place around them.
Guests will enjoy basking under palm trees, lounging in the cabana areas, and engaging in quiet conversation in the garden pavilion. If the weather cops an attitude, the festivities move indoors into the Chateau's celebrated Art Deco interior and ballroom space.
There will be an open bar – top shelf of course – and a buffet brimming with delectable Scotto Brothers cuisine. Music will range from rock, jazz and lounge. And, there will be abundant food for thought, courtesy of a stellar cast of speakers.
The series kicks off June 15 with Michael "Eppy" Epstein, founder of My Father's Place celebrating the nightclub's 40th anniversary and signing copies of his recent book, "Fun and Dangerous: Untold Tales, Unseen Photos, Unearthed Music from My Father's Place 1975-1980." My Father's Place in Roslyn was the epicenter of the Baby Boom rock culture on Long Island, fostered by mythic after hour jams. Stars like Bob Marley, Bruce Springsteen and Jerry Garcia dropped by with their guitars to play for their own enjoyment. Many Long Island CEOs were club regulars in their youths, enjoying the club's elevated atmosphere.
Forty years later, the My Father's Place brand lives on, with thousands of Facebook followers and a growing talent-booking business.
"When it comes to creating a legendary brand, Eppy walks the talk," said Warren Strugatch of the IQ Strategy Group in Hauppauge, the series producer. "My Father's Place closed a generation ago, but the brand lives on in the hearts of its customers." Eppy, he continued, "is a great talker and will tell how he built his brand. He got what amounts to an MBA from running the club."
John Kominicki, publisher of Long Island Business News, and a rock n roll enthusiast himself, will introduce Eppy. The guest of honor will also auction memorabilia, donating revenues to charity. Eppy will sign purchased copies of "Fun and Dangerous" and chat with Steven Rosenfield, the club's onetime house photographer whose pictures are featured in the book.
After the launch party, the events get industry-specific: Real Estate July 13, Finance and Turnaround August 3, Nonprofit August 10 and Technology August 17. The roster of speakers includes Sarah Lansdale, Suffolk County Planning Commissioner and sustainability advocate; Matt Whalen, senior vice president of AvalonBay Communities, discussing on smart growth; Sam Antar, former Crazy Eddie CFO, offering a personalized view of corporate fraud prevention; and Andrew Hazen, of Prime Visibility, describing the digital-media revolution. Additional speakers continue to be booked. Surprise guests are expected.
The event has attracted various local business, trade and professional groups as sanctioning organizations, including CIBS: Commercial and Industrial Brokers Society; the Melville Chamber of Commerce; Vision Long Island; Long Island Elite; and the L.I. chapter of Turnaround Management Association.
The point of the series is that a "sociable environment helps encourage introductions and connections, especially when people have much in common because they share an industry connection," said Joe Mandaro, Corporate Events director at The Chateau. "We're creating an environment that's fun, gracious and upscale, and that's the environment where people are most likely to break out of their shells and talk."
Said Strugatch. "There is no Nassau or Suffolk law requiring business networking must be dull, stuffy and pointless," he said. "If there were, gosh, we'd all be arrested."
Event Details:
Tickets to the series are $125; individual events are $30 at the door.
NOTE: Seating is limited!
VIP Cabanas are available and must be reserved in advance.
Doors open at 5:30pm. Group rates are available to qualified nonprofit organizations.
Opportunities for sponsorship and exhibiting at the events are still available. Visit the series online at: chateaubriandcaterers.com/meeting/networking-events or call 631.439.6864.
Event Dates:
June 15: Lunch Party – Creating a Legendary Brand
July 13 Real Estate - Movers and Shakers
August 3: Finance and Turnarounds – Dollars and Sense
August 10: Non-Profits - Show US the Money
August 17: Technology – Whose Idea is it Anyway?
Complete list of speakers (as of May 15, 2011):

Sam Antar: Corporate Fraud Prevention
Eric Alexander: Long Island's Sustainable Future
Gerry Bodner: Protecting Intellectual Property in a Risky World
Ken Cerini: Money Trends in Non-Profit Sector
Eppy (aka Michael Epstein): Creating a Legendary Brand
Jonathan Ezor: Social Media Today – And Tomorrow
Andrew Hazen: What You Need to Know about Digital Media
Bob Knakal.: Profitability Trends in Real Estate
John Kominicki: Business leadership.
Sarah Lansdale: Balancing Development and Public Spaces.
Robert A.M. Stern Architects: Mixed Use is the Future.
ABOUT THE SCOTTO BROTHERS
A family tradition since 1961, the Scotto Brothers believe that success is not inherited but is rather earned through hard work and dedication.
To this day members of the Scotto family are involved in the every day operations at each of our catering facilities, restaurants and hotels. Members of the Scotto family work hard in seeing to it that your every need is tended to and that your expectations are not only met but exceeded.
Through the years their customer satisfaction has provided them with both the honor and the privilege in being of service to guests time and time again, for a wide array of special occasions. The Scotto Brothers understand the trust one puts in them in having them cater their affair. That is why it is paramount to provide only the best products and services. The Scotto Brothers realize that your success is a crucial part of our success; therefore, they set forth the highest standards in everything they do.
###