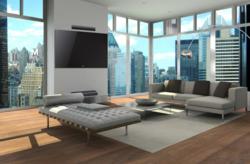 Stamford, CT (PRWEB) May 18, 2011
Design Within Reach, Inc., retailer of the world's largest collection of modern furniture, announces partnering with UrbanDaddy (http://www.urbandaddy.com) and Sony Electronics for the "Your Pad Upgraded" sweepstakes. One winner will receive a $5,000 gift certificate from Design Within Reach, a Sony® HDTV with 3D and a Sony® 3D Home Theater System. UrbanDaddy is a sophisticated email newsletter, website and mobile platform that delivers a daily missive on the latest local trends to discerning subscribers across the country, uncovering the best in nightlife, dining, gear, travel, style and leisure.
The "Your Pad Upgraded" sweepstakes (http://yourpadupgraded.urbandaddy.com/) will launch on Tuesday, May 17, and a winner will be selected after Friday, June 3, 2011. All participants will be encouraged to share the sweepstakes with friends on Facebook for a chance to win an additional prize of a $1,000 gift card from Sony Electronics, Design Within Reach and UrbanDaddy's Perks program.
Design Within Reach, Inc., founded in 1998 and headquartered in Stamford, Connecticut, is the source for the best in modern design. The company markets and sells its furniture and accessories to both residential and contract customers through its retail Studios in the United States and Canada, dwr.com and its Connecticut-based phone sales team at 800-944-2233.
UrbanDaddy is your key to living life from even further on the inside... Each day we publish a free, short, breaking alert on new, interesting and under-the-radar experiences in your city. It's the best of the best, filtered down to one piece of critical cultural intel. We currently publish 13 UrbanDaddy editions, Driven.com and GetKempt.com, in addition to curating exclusive opportunities for our readers that we call Perks. Check out our award-winning mobile app The Next Move, available on iPhone and Android.
Sony Electronics Inc., headquartered in San Diego, is a leading provider of audio/video electronics and information technology products for the consumer and professional markets. Operations include research and development, design, engineering, sales, marketing, distribution and customer service. Sony is noted for a wide range of consumer audio-visual products, such as the BRAVIA LCD and 3D high-definition televisions, Cyber-shot and α digital cameras, Handycam camcorder and Walkman personal stereo. Sony is also an innovator in the IT arena with its VAIO personal computers and in high-definition professional broadcast and production equipment, highlighted by the XDCAM HD and CineAltaT lines of cameras and camcorders and the SXRDT 4K digital projector. The latest news and information is available at the company's website at http://www.sony.com/news.
###