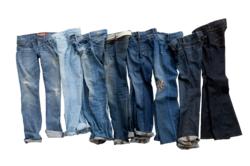 This event will make finding the perfect pair of jeans incredibly easy for our customers.
Los Angeles, CA (PRWEB) May 19, 2011
When you host a successful event, why wait until next year to do it again?
That's the mindset Lucky Brand has adopted with their announcement of another "Find Your Perfect Fit" event this weekend. Based on the popularity of the same event earlier this year, the Los Angeles based men's and women's jeans retailer is once again inviting shoppers on May 20th-22nd to consult with in-store denim specialists and discover their ideal pair of Lucky Brand Jeans.
Not only will shoppers receive expert advice, but anyone who purchases a pair of Lucky jeans during the event will be given a voucher for complimentary expert tailoring nearby or even in the same mall.
"We're excited to be offering our customers yet another opportunity to find a pair of jeans that's perfect for each individual," says Charlie Cole, Vice President of Online Marketing for Lucky Brand. "We had such an overwhelmingly positive response from our last 'Find Your Perfect Fit' event, and it's our pleasure to host it again."
Lucky Brand is known for selling jeans in even the most hard-to-find lengths and sizes. Despite this, Cole says, "we still acknowledge the difficulties of getting just the right hem. This event will make that process incredibly easy for our customers."
The "Find Your Perfect Fit" event will take place at several locations around the country:

Houston Galleria - Houston, TX
Westfield Century City - LA, CA
Bellevue Square - Bellevue, WA
Somerset Collection - Troy, MI
Mall of America - Bloomington, MN
5th Avenue - San Diego, CA
San Francisco Center - SF, CA
Cherry Creek Mall - Denver, CO
Mall at Millennia - Orlando, FL
Promenade Sagemore - Marlton, NJ
State Street - Santa Barbara, CA
International Plaza - Tampa, FL
SouthPark Mall - Charlotte, NC
535 Broadway (Soho) - New York, NY
Fashion Show - Las Vegas, NV
University Village - Seattle, WA
The Grove - Los Angeles, CA
Broadway Plaza - Walnut Creek, CA
Ft. Lauderdale Galleria – Ft. Lauderdale, FL
About Lucky Brand Jeans
Lucky Brand designs and produces jeans, sportswear, knits, wovens, outerwear, T-shirts and active wear. Additional Lucky Brand licensed products include swimwear and accessories for men and women. The Lucky Brand collections are carried at better department and specialty stores, and at over 183 company-owned stores nationwide and three internationally. The complete collection can be viewed at http://www.luckybrand.com.
###