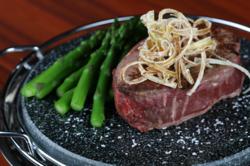 "Dad's love to hear the sizzle and smell the aroma of the searing stone as it locks in all the juices, nutrients and natural flavors of the meat. Every bite is hot, juicy, incredibly delicious…and healthy too." Steve Wright, President Rok Cooking
San Jose, CA (PRWEB) May 19, 2011
Rok Cooking offers the perfect, one-of-a-kind gift for the Dad who has everything. Dads who love to barbecue require healthy eating, or just love to eat incredibly tasting steaks, will find Rok's hot stone cooking utensils the perfect gift for Father's Day. Rok is offering a complete Cooking Set for 4 with accessories for only $149.99 (a savings of $29.80). This offer includes 4 Home Cooking Sets (model HCS-201S) and 1 Home Accessories Kit, everything Dad needs to have unforgettable Rok cooked meals at home with his family or friends.
And instead of just wrapping it, consider using it to treat Dad to the most incredible, delicious and memorable Father's Day meal he may ever experience. Not only will he never forget this Father's Day, he will enjoy unforgettable hot rock meals for many years to come.
About Rok
Rok is the leader in the design, manufacture, and distribution of rock cooking products for restaurants and consumers. Their products are the highest quality and most affordable rock cooking products on the market. Rok is modern stone-age cooking at its very finest. For more information, visit http://www.rokcooking.com.
###