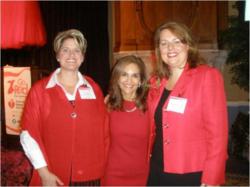 (PRWEB) May 19, 2011
TayganPoint Consulting Group proudly supported the Go Red for Women movement for the second consecutive year at a luncheon on May 16 in Somerset, N.J. At the event, Joy Taylor, co-founder and CEO of TayganPoint, was one of four women selected to appear on a leadership panel.
Taylor, a member of the Garden State Go Red for Women Executive Leadership Team, shared her experiences as a women business owner. She discussed her role in leadership positions, as well as, the challenges she faced along the way and the courage she had to overcome them.
TayganPoint initially became involved with the event through their collaboration with Merck, a national sponsor of Go Red for Women. The company is strongly committed to supporting charitable causes and its local communities. "TayganPoint is continuing to support the Go Red initiative because it allows us to generate awareness to our employees, affiliates and clients. It is a cause we truly believe in and allows us the opportunity to tell others about this important cause," Taylor said.
The American Heart Association raised a considerable amount of money and conducted significant research, yet heart disease is still the leading killer of women, taking the lives of one in three women annually. As a predominantly women-owned and operated business, this fact hits very close to home at TayganPoint, Taylor said. "Being associated with causes such as Go Red provides us a great deal of satisfaction knowing we are focusing our support on topics that directly impact our staff and our clients."
TayganPoint Consulting Group, a boutique management consulting firm based in Lambertville, N.J., is dedicated to helping companies solve their most pressing business issues, improve business performance, and achieve measurable, sustainable value. A certified Women's Business Enterprise (WBE), TayganPoint specializes in strategy management, process design and process improvement. The firm provides consulting services to many Fortune 500 companies, helping them solve their most pressing business issues.
The American Heart Association Go Red for Women movement celebrates the energy, passion and power we have as women and men, to band together and to wipe out heart disease and stroke. The Garden State Go Red for Women Luncheon is the annual celebration of the Go Red for Women movement. One of the premier women's events annually in New Jersey, it is a day of education, connection, inspiration and life attended by close to 500 of New Jersey's most influential executive and professional women (and men) in business, industry, health, education and civic affairs.
###