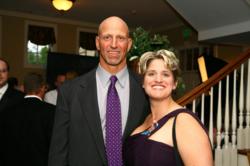 "Living with a child who has Autism is a full time job," Taylor said. "There are no solutions, only treatments, which may not even work because every child diagnosed with Autism is uniquely and distinctively diagnosed."
Lambertville, NJ (PRWEB) May 19, 2011
TayganPoint Consulting Group co-founder and CEO, Joy Taylor, was honored for her exceptional commitment to the Autism Cares Foundation at the second annual gala and silent auction on April 29.
Taylor, whose daughter, Egan, was diagnosed with Autism in July, 2007, and her family are active members of the Autism Cares Foundation. They participate in monthly foundation-sponsored activities including BounceU events and sensory friendly movie nights.
"Living with a child who has Autism is a full time job," Taylor said. "There are no solutions, only treatments, which may not even work because every child diagnosed with Autism is uniquely and distinctively diagnosed." There is not one particular treatment that will benefit an individual living with Autism, which makes it more difficult for parents, families and friends to find sustainable treatments. "The Autism Cares Foundation was a godsend," said Taylor. Finally, she and her husband found a community of people in a similar situation. They found a shoulder to lean on, a place where their daughter could participate in activities that were geared toward her needs.
Taylor hopes that one day soon the Foundation's goal of building an Autism Resource Center will be a reality. This center will be a place where parents and families of the newly diagnosed can talk to others that are in a similar situation. Taylor said, "I want someone to be able to walk into a building and go up to a desk and say 'My child was diagnosed with Autism. I need some help.' And have the person sitting behind the desk reply, 'We have someone here who can help you and answer your questions.'"
Taylor will continue to further assist individuals with autism and their families. "There are three things I want to focus my energy on," said Taylor. "I plan on remaining committed the Autism Cares Foundation and providing guidance to parents and family members who seek it, particularly those with a 'new diagnosis.' I will continue to speak to college students seeking a career in the field of Special Education in order prepare them to work with parents like me. And, I will continue to be an advocate for children and adults on the spectrum."
TayganPoint Consulting Group, a boutique management consulting firm based in Lambertville, N.J., is dedicated to helping companies solve their most pressing business issues, improve business performance, and achieve measurable, sustainable value. A certified Women's Business Enterprise (WBE), TayganPoint specializes in strategy management, process design and process improvement. The firm provides consulting services to many Fortune 500 companies, helping them solve their most pressing business issues.
# # #