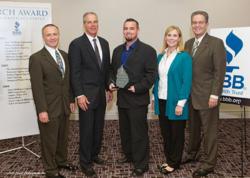 It is hard today to find business' that care about customers, but Mega cares.
-- Robin Lestina-Cikanek
Algonquin, IL (PRWEB) May 21, 2011
The Better Business Bureau of Chicago & Northern Illinois (BBB) announces the 2011 winners of the fourteenth annual Torch Award for Marketplace Ethics, which spotlights companies that exemplify ethical business practices. MEGA Home Improvement of Algonquin was honored at the awards luncheon ceremony held at the Holiday Inn Mart Plaza in Chicago in December.
The Torch Award for Marketplace Ethics honors companies that make a demonstrable effort to promote ethical business practices, and we are pleased to see the number of businesses who, in the eyes of their customers and other associates, meet that threshold. MEGA Home Improvement also received this award in 2008.
The award recipients are selected by an independent panel of judges each year. Bernas continued, "This year's participants and winners have reaped many rewards as a result of their commitment to achieving and maintaining high ethical standards including stronger customer loyalty, enhanced reputation, and greater employee commitment."
Accepting the ward for MEGA Home Improvement was MEGA customer, Robin Lestina-Cikanek who was introduced by MEGA's Don Domanus. Robin accepted on behalf of all MEGA customers who daily benefit from the high ethical standards of MEGA Home Improvement. A video of the MEGA Award presentation is on YouTube.
Steve and Joe Hogel, owners of MEGA noted that "The 2011 competition had the largest number of nominations and entries with nearly 2,000 nominations from a wide variety of businesses. We are grateful to be recognized for the high ethical standards that have always been at the core of our business."
Steve Bernas of BBB noted that the presentation of awards is just the tip of the iceberg for companies that do it right by working with their customers, suppliers and other organizations in an ethical manner. Many of the nearly 2,000 nominees for this award were the result of consumers alerting the BBB to companies who 'do it right'.
MEGA Home Improvement serves customers throughout the Chicago area from Algonquin, IL. 847.658.89.89. http://www.MEGApros.com.
# # #