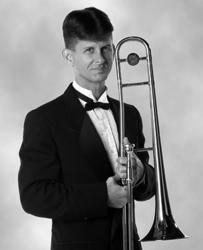 "I salute Woodwind and Brasswind's commitment to music education through their support of exciting live clinic events."
-- Harry Watters
South Bend, IN (PRWEB) May 20, 2011
The Woodwind & Brasswind Flagship Superstore hosted a special trombone clinic with Summit recording artist, U.S. Army Band trombonist, and Jupiter Band Instrument clinician Harry Watters on Friday, May 7, 2011, at their 4004 Technology Drive, South Bend, Indiana location.
Watters showcased his amazing trombone techniques including segments from his popular clinic series "power practicing" at the event, which was streamed live on The Woodwind & Brasswind web site.
Harry commented. "I salute Woodwind and Brasswind's commitment to music education through their support of exciting live clinic events. Their incredible staff and amazing superstore are truly the envy of the industry."
An all-star rhythm section joined Watters to back him up during the hour-long event. Attendees were captivated by his tribute to the New Orleans lower 9th ward, which was ravaged by Hurricane Katrina, and amazed at his mastery of the technically challenging classic jazz standard "Cherokee."
About the Clinician:
Trombonist Harry Watters teaches jazz trombone at George Mason University in Fairfax, Virginia, and offers online coaching sessions via his own web site. His numerous Summit Records releases include the popular "Love Songs" and 3 critically acclaimed discs with his brother, trumpeter Ken Watters.
Watters is constantly in demand as a Jupiter Band Instrument artist and clinician. He has performed with Doc Severinsen, Al Hirt, Pete Fountain, Erich Kunzel, Kevin Mahogany, the Boston Brass, and many others. In addition, Watters has appeared as a featured soloist with the Syracuse Symphony, the Baton Rouge Symphony, the Louisiana Philharmonic, the Tulsa Pops, the West Virginia Symphony, the University of North Texas One O'Clock Lab Band, the Janacek Philharmonic, the Moldovan Festival Orchestra, and the U.S. Army Orchestra.
Watters has presented his "Power Practicing" seminar at the American Band College, the Association of Concert Bands' National Convention, the University of North Texas, New Mexico State University, the University of Texas at Austin, the University of Tennessee, East Carolina State University, Baker University, the University of Central Florida, Virginia Commonwealth University, the University of New Orleans, Louisiana State University, Kent State University, and in high schools throughout the United States.
A signature Harry Watters trombone mouthpiece, which he has used while playing in the Army Blues Jazz Ensemble and the U.S. Army Brass Quintet in Washington, DC, attests to Watters importance as a trombone performer.
About The Woodwind & Brasswind:
The Woodwind & Brasswind is headquartered in South Bend, Indiana. Facilities include the Band & Orchestra Superstore and attached offices supporting a growing e-commerce website, a robust music equipment catalog business, and a thriving educational and institutional division.
# # #