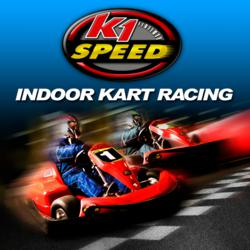 Our company is constantly searching for new and innovative ways to implement a more energy efficient footprint while implementing 'greener' business practices
Irvine, CA (PRWEB) May 30, 2011
After years of success bringing indoor karting to the Southern California and Pacific Northwest markets, K1 Speed -- the nation's largest indoor go kart racing company -- opens its newest location in Hollywood, Florida. The company's first location on the east coast, K1 Speed South Florida will introduce the thrill and excitement of electric indoor karting to a whole new group of enthusiasts. The 75,000 sq. ft. indoor kart racing facility features two professionally designed racetracks, high performance, zero-emission electric karts that are capable of 45mph, and a large collection of authentic racing memorabilia. Built to the same standards as K1 Speed's Southern California and Pacific Northwest centers, K1 Speed South Florida is a first-rate entertainment venue.
K1 Speed South Florida will provide both novice and veteran drivers the opportunity to experience an authentic racing atmosphere. The center's large indoor kart tracks, which can be combined for the company's signature Challenge GP race series, feature challenging corner combinations, long straights, and hairpin turns, providing racers with a variety of opportunities to test their skills and fortitude behind the wheel. When not on the track, racers can take advantage of the spacious lobby, which features a multitude of video games, a Pit Cafe stocked with snacks and refreshments, official racing memorabilia, and comfortable seating areas with club-like lighting and plasma televisions.
New racers to K1 Speed South Florida will be able to see firsthand how their performance measures up against their west coast counterparts. The live telemetry K1 Speed Race Scoring timing system, which is integrated with every K1 Speed location, analyzes racers' performance while on track and compares factors such as position, fastest lap and average lap with other competitors. The scoring system provides valuable data on lap times and overall rank, and is a great tool for individuals who want to track their performance and progress on return visits.
To meet the needs of groups, K1 Speed South Florida has on-site meeting rooms - which can be rented for corporate events, team building exercises, product launches, private parties or seminars - and a variety of catering options are available. Featuring state-of-the-art audio / visual systems which include 110" projection screens, DVD players, and Wi-Fi Internet access, the meeting rooms have everything that a company would need to host a business meeting or presentation, making K1 Speed a unique alternative to traditional meeting venues. As one would expect from a indoor go kart racing company, race packages can be combined with room rentals for an unforgettable experience.
Susan Danglard, co-owner and Marketing Director for K1 Speed, believes that the company provides a unique experience in the marketplace. "Our company is constantly searching for new and innovative ways to implement a more energy efficient footprint while implementing 'greener' business practices," Susan states. To meet this goal, K1 Speed South Florida incorporates energy efficient lighting, electric zero-emission karts and more sustainable business practices to help eliminate waste and reduce costs.
K1 Speed South Florida is conveniently located for residents of the Greater Fort Lauderdale area, including those living in Miami, Miami Beach, Pompano Beach, Hollywood, Boca Raton, Plantation and Sunrise.
About K1 Speed:
K1 Speed was founded in 2003 and is the nation's largest indoor kart racing chain. Each facility boasts 50,000-90,000 sq. ft. of space which feature real road courses, meeting rooms, snack bars and spacious lobbies with genuine racing memorabilia. Visitors can take advantage of a variety of different race packages to race against their friends or the clock. K1 Speed can accommodate 10 to 800 guests and offers a unique venue for corporate functions, team building events, birthday parties, bachelor parties or other private ceremonies.
# # #