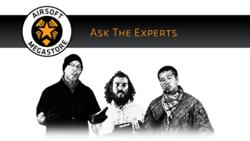 Not only will the bill place California citizens in harms way, but it will also force a number of Airsoft companies out of the state, eliminating thousands of jobs as well as tens of millions in annual tax revenue.
Baldwin Park, CA (PRWEB) May 20, 2011
Airsoft Megastore has recently launched a political effort to repeal California Senate Bill 798, which passed the Senate Public Safety Committee on March 26, 2011. If SB 798 passes the California State Senate, it will prohibit "the sale, manufacture, transportation, receipt, or distribution of imitation firearms for commercial purposes," unless they are comprised of "white, bright red, bright orange, bright yellow, bright green, bright blue, bright pink, or bright purple, either singly or as the predominant color in combination with other colors in any pattern."
In short, the bill mandates that Airsoft guns be manufactured in the same colors as toy guns. Airsoft guns are not toys. These replica firarms shoot Airsoft pellets at very high rates of speed and, if misused, they can cause significant physical trauma. Airsoft guns are intended for adult and adult-supervised use only and should be differentiated from everyday toy guns accordingly. Current law requires that Airsoft guns feature a visible, bright-orange tip. This tip allows individuals to easily distinguish Airsoft guns from real firearms, while still underscoring that they are more than toy guns.
SB 798 will create dangerous confusion between toy guns and Airsoft guns. Parents will be less likely to supervise their use and children less likely to use the correct safety precautions, resulting in more injuries and a greater threat to the community at large. Not only will the bill place California citizens in harms way, but it will also force a number of Airsoft companies out of the state. California stands to lose thousands of Airsoft industry jobs as well as tens of millions of dollars in annual tax revenue generated by the sale of Airsoft products.
For these reasons, Airsoft Megastore has launched a "Save Airsoft – Stop SB 798" initiative. They have created an informational video and provide a form letter with detailed instructions for contacting Kevin De Leon, the California Senator responsible for the bill. By empowering Airsoft enthusiasts to make their voice known, Airsoft Megastore hopes to overturn this misguided bill and restore reason to Airsoft legislation.
About Airsoft Megastore

Airsoft Megastore is North America's premiere supplier of Airsoft guns, ammo and accessories.
Airsoft Megastore is strategically based in Southern California, an ideal location for efficient importing from Airsoft manufacturers in Asia.
Airsoft Megastore aims to bring Airsoft to the masses by providing high quality Airsoft products, including Airsoft rifles and pump or spring Airsoft shotguns, at the lowest possible prices with a 125% lowest price guarantee to their clientele.
# # #