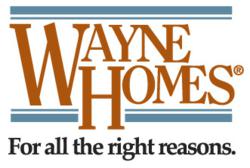 Uniontown, OH (PRWEB) May 20, 2011
One homebuilder has a long tradition of honoring those who do the jobs that keep our country safe. Now Wayne Homes continues that commitment by also honoring those who educate our kids and who take care of us when we need it most. And Wayne Homes is doing all this with more style than ever before.
The "Hometown Heroes" program, which gives firefighters, police officers and men and women of our armed forces complimentary upgrade packages on their new Wayne homes, has been expanded to include teachers and nurses.
"Hometown Heroes was implemented by Wayne Homes to take care of those who take care of the rest of us," says Maurie Jones, Wayne's Vice President of Marketing. "When a Hometown Hero – say a teacher – builds a new Wayne Home, we give him or her additional features worth up to $5,000."
Hometown Heroes can choose from several different packages. The home theater and gourmet kitchen appliance packages have been the favorites.
Thanks to a new partnership with Pottery Barn, a $5,000 shopping spree has been added to the mix. Heroes receive a gift card they can spend outfitting their great room, furnishing a luxurious master suite, creating that outdoor room they've always wanted – whatever they choose – when they choose Wayne as their homebuilder.
No doubt the work done by these hardworking men and women is challenging. And, although it is often said that a job well done is its own reward, for the Wayne Homes Hometown Heroes, there's a little something else in it for them too.
About Wayne Homes
The task of constructing a home from the ground up is made less daunting thanks to Wayne Homes' four decades of experience, streamlined process and exceptional personal service. They help customers through every step — from home-site prep and financing to choosing from numerous combinations of floorplans, features and finishes. The result is a home of extremely high quality that perfectly suits the homeowner's needs. Homes range from 1,300 to 3,500 square feet and from the $80s to $200s (plus land cost). Learn more about building a custom, energy-efficient home by dropping by one of the company's eight model home centers or by visiting WayneHomes.com.
###