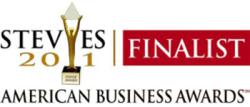 (PRWEB) May 18, 2011
Staff Management | SMX, the industry's leading provider of sustainable temporary staffing and contingent workforce solutions, was named a finalist in the Customer Service Team of the Year category in the 2011 American Business Awards. More than 2,800 nominations from organizations of all sizes and in virtually every industry were submitted this year for consideration in more than 40 categories.
The American Business Awards are the nation's premier business awards program. All organizations operating in the U.S.A. are eligible to submit nominations - public and private, for-profit and non-profit, large and small.
Staff Management's Customer Service Team of the Year nomination focused on the dedicated team that took on the challenge of hiring 10,000 people during the 2010 holiday season for a leading online retailer. The Staff Management team rose to that daunting challenge, as well as additional hurdles such as a 50% increase in hiring requirements from previous years plus a 30-day-shorter hiring timeframe, meeting all of the client's hiring needs while achieving 100% audit compliance for hiring and procedural requirements. In addition, the team helped Staff Management surpass all previous records set for total number of associates paid in a week and achieve a 39% increase in Q4 2010 revenues.
"Staff Management as an organization is extremely proud of this dedicated team who sacrificed their time with family and friends over the busy holiday season serving our client. Many people, including hard-working recruiters and coaches, supervisors and safety managers, data entry clerks and directors from across the country, had a hand in helping this client succeed," says Jerry Wimer, Vice President of Operations, Staff Management. "Each and every member of this group, from service teams at sites across the country to our Centralized Services Group at our Center of Excellence in Chicago, should know that they made a difference and that we are grateful for their commitment and determination."
A key to the team's success was the excitement they generated about the number of seasonal jobs available at a time when so many people were un- or underemployed. Social media tactics, including an associate-focused Facebook community, were launched to promote job opportunities, job fairs and other hiring events as well as promote associate incentives and build a sense of community across the nationwide client sites. Facebook proved to be a great forum to allow Staff Management to stay in touch with potential recruits, help them navigate the hiring process, answer questions and address employee concerns before they become issues.
Fellow nominees in the Customer Service Team of the Year category include: DeVry University's Student Finance Solutions Center, LifeLock's Resolution Team and Overstock.com's Customer Care Team. Last year's American Business Award winners include Constant Contact, Apple, Ford, Accenture and Chase.
This year's Stevie Award winners will be announced during the annual gala on Monday, June 20 at the Marriott Marquis Hotel in New York City. More than six-hundred executives from across the U.S.A. are expected to attend. The event will benefit Camfed (camfed.org), which fights poverty and HIV/AIDS in Africa by educating girls and empowering women to become leaders of change. The ceremonies will be broadcast on radio nationwide by the Business TalkRadio Network.
About the Stevie Awards
Stevie Awards are conferred in four programs: The American Business Awards, The International Business Awards, the Stevie Awards for Women in Business, and the Stevie Awards for Sales & Customer Service. Honoring organizations of all types and sizes and the people behind them, the Stevies recognize outstanding performances in the workplace worldwide. Sponsors and partners of the American Business Awards are several of the top business publishers and marketers and include Infogroup, IBM Netezza, American Support, Citrix Online, Epic Media Group, High Performance Technologies Inc., iolo technologies, LifeLock, Merisel, PetRays, SDL, and SoftPro. Learn more about The Stevie Awards at http://www.stevieawards.com
About Staff Management
Staff Management is a division of SeatonCorp, a leading provider of consultative managed staffing and recruiting programs for Fortune 500, Global 2000 and high growth companies. Founded in 1988, Staff Management was an industry pioneer of Vendor on Premise (VOP) staffing.
Today, Staff Management has evolved its revolutionary VOP platform to provide sustainable temporary staffing and contingent workforce management solutions across a growing global footprint and has become the leading Managed Service Provider (MSP) with deep domain expertise supporting clients in the manufacturing, distribution, logistics and contact center segment. Staff Management solutions deliver best talent, drive compliance, yield tangible savings and provide a unique client aligned technology platform for high-volume workforce management.
Staff Management is ranked amongst the largest staffing firms in the U.S. by the Staffing Industry Analysts (SIA), the 13th largest industrial staffing provider on SIA's 2010 List of Largest U.S. Industrial Staffing Firms and the #1 MSP provider in breadth of services delivered and #1 MSP provider in size of deal on HRO Today's 2010 Baker's Dozen list of leading MSP providers. Staff Management is a 2010 Stevie for Women in Business Award Winner.
Staff Management is a charter member of the U.S. Immigration and Customs Enforcement IMAGE Program.
For more information, please visit us at staffmanagement.com or call 800-746-9462.
For More Information:
Caroline Storey-Sabetti
Executive Director of Business Solutions & Marketing
Staff Management
(413) 256-6959
cstorey(at)staffmanagement(dot)com
This press release was distributed through PR Web by Human Resources Marketer (HR Marketer: http://www.HRmarketer.com) on behalf of the company listed above.
###