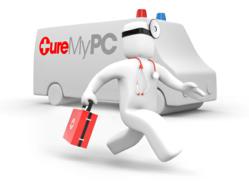 We Cure Your PC or It's FREE!
Los Angeles, CA (PRWEB) May 20, 2011
"We [CureMyPC] are excited to offer online computer support for consumers in need of technical support," stated Richard Armstrong, National Operations Manager at CureMyPC. "We believe customers are being underserved in this industry, and there's a high demand for help. CureMyPC is positioned to fill that need." In discussing the company's capabilities he says, "We are currently staffed to solve thousands of technical problems monthly, and as our customer base grows, so will our staff."
Customers ranging from the computer savvy to the computer illiterate contact CureMyPC for its technical support services. The company's staff work 24 hours a day, 7 days a week to make sure their customers always receive the support they need. Virus and spyware removal are a specialty for CureMyPC, but their service range is extensive. Supported services consist of: virus removal, spyware removal software assistance, Internet connectivity help, speeding up slow computers, and much more.
CureMyPC has made some strategic partnerships to ensure the highest quality in customer service. "We [CureMyPC] have chosen high quality organizations, with proven track records, to help facilitate the growing demand for our services," says Armstrong. The company is focused on brining a higher customer experience to a service-based industry. There is an ever-growing demand for technical support services, and with the successful launch of its new online support product, CureMyPC is here to fill that need.
About CureMyPC:
CureMyPC operates a nationwide 24/7 computer support service to help computer users by solving their technical problems over the phone and Internet. By facilitating phone and online support only, CureMyPC is able to offers its products at a competitive rate within its industry. The company specializes in: computer virus removal, spyware removal, software assistance, Internet connectivity help, speeding up slow computers, and extends many other services.
CureMyPC offers both one-time-repairs and unlimited annual support plans. As a service-focused company they operate by the mantra, "We Cure Your PC or It's FREE!"
###