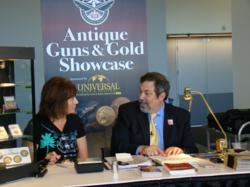 "Know what you have before selling." -- Michael Fuljenz, President of Universal Coin & Bullion
Beaumont, TX (PRWEB) May 19, 2011
Free appraisals of the public's gold coins and jewelry at the National Rifle Association's (http://www.NRA.org) recent 2011 Annual Meetings & Exhibits confirmed important advice for anyone who wants to sell their precious metal collectibles or heirlooms. "Know what you have before selling," advises Michael Fuljenz, President of Universal Coin & Bullion (http://www.UniversalCoin.com) in Beaumont, Texas, the official rare coin and bullion dealer of the NRA.
Fuljenz examined dozens of vintage gold coins and jewelry items brought by the public to the David Lawrence Convention Center in Pittsburgh, Pennsylvania as part of the NRA's Antique Guns & Gold Showcase. A brief video about his participation at the show is online at the NRA's American Rifleman magazine website at http://www.americanrifleman.org/blogs/universal-coin-and-bullion/.
"Many of the people I met with originally had thought about selling their gold to traveling 'hotel' buyers. They didn't know the value of their gold items, and easily could have sold them too cheaply. Some out-of-town, traveling gold buyers who claim to be experts -- but are not -- set up shop for a few days at a local hotel and pay as little as 20 cents on the dollar compared to better offers the sellers might receive from reputable coin dealers," said Fuljenz.
Fuljenz has been assisting Jerry Jordan, Managing Editor of The Examiner newspaper in Beaumont, in a series of "Seller Beware" investigative consumer protection news stories about selling gold.
"For each person who brought a gold coin to the NRA Antique Guns & Gold Showcase I explained the historical significance of the item and how much gold bullion it contained. It's important to know the intrinsic bullion value, how much value the coin has if it were melted, before you offer it for sale. Of course, scarce and rare coins have a collector value above the melt value. And, it's important to know if that applies, too, before attempting to sell it."
Fuljenz provided gold and silver investing advice during the two Freedom First Financial Seminars at the NRA meetings. He also met with collectors and investors at the Universal Coin & Bullion booth where he signed copies of his award-winning book about popular U.S. gold pieces, "Indian Gold Coins of the 20th Century."
Founded in 1994, Universal Coin & Bullion, Ltd. is a national leader in gold, rare coins and numismatic education. UCB President Michael Fuljenz is a nationally-known rare coins and precious metals expert. He is an award-winning numismatic author of books and newsletters, a frequent interview guest on radio and TV news and personal finance programs, and a community leader in his hometown of Beaumont, Texas.
For additional information, contact UCB at (800) 877-3273 or visit online at http://www.UniversalCoin.com.
###