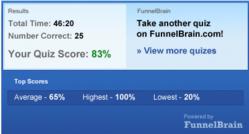 We're focused on developing products that enable collaboration among learners and portability is a key component.
Calabasas, CA (PRWEB) May 19, 2011
Today, FunnelBrain LLC, the leader in online group learning, launched a retooled Flashcard and Quiz Study Widget with dramatically improved usability and functionality to help active learners collaborate on and off the FunnelBrain website.
FunnelBrain's Study Widget gives learners on FunnelBrain the benefit of hosting review materials in the form of flashcards and quizzes anywhere on the web. Learners can now use FunnelBrain's user generated content tools to create multi-media flashcards and quizzes and embed those materials on any website, blog or social networking site including Facebook.
'The improved Study Widget not only advances the basic users experience, it also provides learners with performance stats, improved look and feel and a greater ability to connect with learners across the web," explained Joe DeTuno, FunnelBrain CEO. "We're focused on developing products that enable collaboration among learners and portability is a key component."
Review materials on the new FunnelBrain Study Widget are presented in an easy to use flashcard or quiz player that is available for any content created and hosted on FunnelBrain's website. Learners simply click the embed link and copy the embed code to add the Study Widget to their website, blog or social network. The Study Widget can display materials created with text or images using FunnelBrain's user generated content tools. Quizzes have the added benefit of displaying analytic information including community stats and the quiz leaderboard.
The FunnelBrain Study Widget is the latest in a recent flurry of new and improved FunnelBrain features including the new FunnelBrain search page which now presents information so learners can better scan, evaluate and identify flashcards, quizzes, people and study groups of interest.
You're invited to visit FunnelBrain and see the power of collaborative learning first hand. Browse through thousands of 3D flashcard decks, quizzes and study teams. Test your knowledge on popular subjects you find and then challenge your friends by embedding a FunnelBrain widget on your site today!
About FunnelBrain
The Free online education site where educators and learners interested in academic achievement maximize the power of group learning. FunnelBrain was designed to allow learners working in teams to create academic review questions and answers, paired with video explanations, for any subject they want. It's free, it's fun and you'll do better in class. To learn more, please visit http://www.funnelbrain.com.
# # #