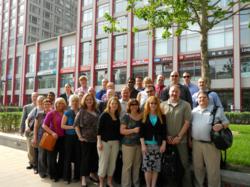 Portland, OR (PRWEB) May 19, 2011
A group of 15 students, two faculty members and six guests will travel to Beijing, China, this month to represent the George Fox University School of Business as part of an international residency class that annually gives program participants the opportunity to study business abroad.
Since the program's inception in 2004, nearly 200 George Fox business graduate students have made the weeklong trips to locales including Brazil (2004-06), Shanghai, China (2007-09) and Beijing and Tianjin, China (2010-11). The trips are offered through a required class, Global Environment, in the university's Master of Business Administration (MBA) program.
Students have the option of taking the course as a regular seven-week class at the school's Portland or Boise Center locations or to participate in the international residency trips.
Those who opt for the trip visit a variety of organizations from the financial, manufacturing, technology and services sectors. This year's curriculum also includes social entrepreneurship, so students will visit the BN Vocational School, a not-for-profit organization that provides free vocational education for the children of migrant workers who have come from rural China to the city for employment.
Students complete reading and research assignments prior to traveling, along with a full day of preparation that includes a panel discussion with guest speakers whose extensive experience living and working in China provide an invaluable resource, according to Jim Steele, an associate professor of management who is leading this year's trip.
Students make weekly journal entries before and after the trip, as well as daily entries while in China in order to retain what they learn. After the trip, students complete a reflection paper that compares what they experienced in China to the research they were able to conduct prior to traveling.
The trip is a reflection of the School of Business' commitment to producing students who are globally engaged.
"We value worldwide experiential learning aimed at understanding and improving the human condition," Steele said. "We hope to connect genuinely with people from diverse cultures both locally and globally through relationships and reciprocal teaching and learning."
He added that such a course isn't typical of MBA programs. "We believe that the option of an international residency makes our program unique, as this is something usually found only in international MBA programs. I have heard from several students over the years that the opportunity for travel influenced their decision to choose the George Fox MBA."
Ultimately, the course is designed to "inform ourselves about matters affecting our world, develop a global perspective and an appreciation of different cultures, which are central to the values and vision of the university and the mission of the School of Business," according to the course's syllabus.
The trips also offer the chance to visit historic locations. Based in Beijing, cultural tours included stops at the Great Wall, Tiananmen Square and the Forbidden City.
The excursions also give students in George Fox's Portland MBA program to interact with those enrolled in the school's part-time MBA program in Boise, Idaho. The School of Business offers a part-time MBA program in Portland and Boise as well as a full-time MBA program at its main Newberg, Ore., campus, and a doctor of business administration degree. At the undergraduate level, degrees are offered in accounting, economics, finance, global business, entrepreneurship, marketing and management.
To learn more about the Portland part-time MBA program, contact Robin Halverson, admissions counselor, at 503-554-6123. Information meetings on the program are scheduled Thursday, June 2, and Tuesday, June 14, at George Fox's Portland Center location, 12753 S.W. 68th Ave., Portland. Both meetings begin at 6:30 p.m.
In Boise, noon information meetings are scheduled Wednesday, June 1, and Wednesday, July 13, at the center's location at 1810 S. Eagle Road, in Meridian, Idaho. More information on the Boise program is available by calling Sandi Gregory at 208-375-3900.
To learn more about the international residency trip, contact Steele at 503-554-6177.
George Fox University is ranked by Forbes as the top Christian college in the Pacific Northwest and among the top three Christian colleges in the country. George Fox is the only Christian university in the Pacific Northwest classified by U.S. News & World Report as a first tier national university. More than 3,400 students attend classes on the university's campus in Newberg, Ore., and at teaching centers in Portland, Salem, and Redmond, Ore., and Boise, Idaho. George Fox offers bachelor's degrees in more than 40 majors, degree-completion programs for working adults, five seminary degrees, and 11 master's and doctoral degrees.
Contact:
Jim Steele
Associate Professor of Management
503-554-6177
###