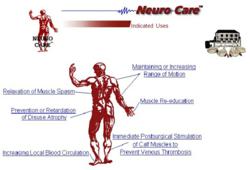 (PRWEB) May 25, 2011
Announcing the breakthrough in the treatment of diabetic wounds, gangrene, and neuropathy, using the Neurocare1000, a therapeutic electrical stimulator. Physicians and practitioners, using the Neurocare 1000 and accompanying treatment programs are quite excited about the results. There is no other machine on the market that can do what the Neurocare 1000 does.
Currently, the Neurocare 1000 is the only device on the market that can help reverse the need for amputation due to diabetic wounds, infections and gangrene. Instead of focusing on the symptoms, as many existing electronic muscle stimulators do, our device focuses on the root of the problem. Damaged tissue becomes healthier, patients regain feeling and treatments can be completed at home. Self-treatment at home with the Neurocare 1000, is easy,safe, portable, non-invasive, and simple to use.
Studies were done in Mexico to ascertain the effectiveness of electrical stimulation on wounds in limbs of diabetic patients with extreme complications.
All patients were adults with onset diabetes. All patients have severe infections and lack of circulation in one or more feet. All patients have been scheduled for amputation of the limb involved. A medical doctor supervised the program. One neuromuscular electronic stimulator unit was used (The Neurocare 1000). The method of treatment with this modality was according to the Neurocare 1000 protocol.
Even though the patients benefited by learning how to maintain diet and clean wounds. It was apparent to all that the favorable results were based on the ability of the Neurocare 1000 to increase the circulation to the diseased limb. Not only did the wounds heal, but the sensitivity returned.
Because of electronic technology, the Neurocare 1000 is able to achieve more muscle recruitment via high voltage, with less patient discomfort because of lower amperage. Due to this combination, new treatment programs have been designed which are causing excitment in the medical community.
The Neurocare 1000 is the only neuromuscular stimulator on the market that is able to achieve 440 volts at 4 milliamps of current. Other EMS units achieve 125 volts at 90 millliamps of current. It is the high amperage that causes the pain when being treated with a direct electrical current.
The Neurocare 1000, functions on an (alternating current) ouput, where other stimulators are DC (direct current) output. This feature is currently proprietary to the Neurocare 1000.
For more information on the Neurocare 1000 self-treatment programs, and to view photos of patients prior to amputation and after treatment using the Neurocare 1000 for diabetic wound healing, gangrene, and bedsores, visit http://wwwdrspack.com.
###