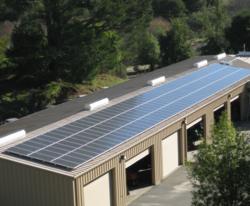 Over the next 30 years, the air pollution saved will be equivalent to elminating over 1.3 million miles of driving.
(Vocus/PRWEB) May 19, 2011
Novato and Sonoma-based SolarCraft announced the completion of a solar electric installation at The Meadow Club in Fairfax, CA. The famed Marin County Golf Course's maintenance operations are now powered by clean, renewable energy.
The photovoltaic system is mounted on the steel roof of the Club's maintenance building and consists of 2,057 square feet of American made Sharp solar panels. The new system will reduce the Club's utility costs by thousands every year, while reducing the load on the local utility grid. Excess power generated during the day is banked by PG&E for credit towards future use.
The system's solar panels convert sunlight directly into electricity and will generate approximately 37,147 kilowatt hours of energy annually, offsetting the maintenance building's yearly energy consumption by more than 90%. It will spare the air nearly 19 tons of harmful greenhouse gases annually. Over the next 30 years, the air pollution saved will be equivalent to eliminating over 1.3 million miles of driving.
About The Meadow Club
The first course designed in America by Dr. Alister MacKenzie, the Meadow Club Golf Course sits on the slopes of Mt. Tamalpais in a magical setting and is considered one of California's finest country clubs. Opened since 1927, the 18-hole "Meadow" course at the Meadow Club facility features 6,602 yards of golf from the longest tees for a par of 71 .
SolarCraft is one of the most experienced solar energy contractors in California. For more than 27 years this certified Green Business has been providing Solar Electric, Solar Pool and Solar Water Heating services including consultation, design, installation, monitoring and maintenance. SolarCraft is a full-service solar contractor, employing licensed and certified solar installers who are experts in their field. Since 1984 SolarCraft has installed more than 4,500 solar energy systems in California with over 1.3 million square feet of solar collector surface area, saving customers more than $7 million annually and eliminating the production of more than 28,000 tons of greenhouse gases every year.
# # #