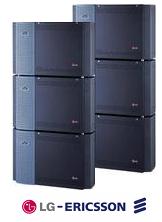 The LG-Ericsson LDK IP phones are ideal for small businesses that need the combination of flexibility and affordable high-end business phone features
Bay Shore, NY (PRWEB) May 19, 2011
The LG-Ericsson LDK IP Phone systems from TelcoDepot.com go beyond average business phone systems by providing advanced features that can positively impact a business' bottom line. With features like Hot Desking, Detailed Reporting, One-touch Feature Button, LCD Soft keys and Mobile Extensions, the LDK IP Phone systems deliver powerful capabilities in a cost-effective package that can help make the difference for small businesses.
With each LDK IP Phone system, businesses enjoy small-business optimized features including Text messaging, Caller ID (name & number), 15 party conference, call recording, Voicemail notification, Automatic Call Distribution (ACD), Data line security, Direct Inward Dialing (DID), Interactive Voice Response (IVR), IP Phone Support, IP Soft phone, support for VoIP (SIP H.323 / H.450, which can be used with Telco Depot business internet phone service), VoIP Networking, Speed Dial, Call Forwarding / Transfer / Pickup / Screening and Intercom, to mention a few key features.
The Telco Depot LDK IP Phones offering gives small businesses the rare opportunity to possess a truly scalable and IP ready small business phone system that is loaded with features to fully manage their present business communications and contribute to business growth while being adaptable to future requirements in terms of increased scale of overall business communications or increased dependence on IP/VoIP phone system communications. Other key benefits of the offering include inbuilt productivity tools like the 15 party conferencing system and several call budget control capabilities like call traffic monitoring and least call routing to ensure optimized call costs.
Telco Depot offers the LG-Ericsson LDK in a number of packages or combinations for businesses of different sizes. The LDK 3x8 is a package that is ideal for a home office and consists of the LDK system with 3 lines and 8 phone ports, as well as 3 24-button LCD digital phones. The LDK 3x8 package goes for only $688.31, clearly a high-value offer for small businesses. This package also has a variant with all the features of the 3x8 but with added Automated Attendant and Voicemail (up to 8 hours of recording) - all for only $1,072.95 with free shipping and 60-day 100% money back guarantee.
Larger offices can take advantage of the LDK 6x16 package, which provides the LDK system with 6 lines and 16 ports, as well as 8 24-button LCD Phones for just $1,497.58 with free shipping and 60-day money back guarantee - talk about Telco Depot value. The LDK 6x16 package also has a variant that includes Auto Attendant with up to 8 hours of Voicemail recording for just $1,899.95. Small businesses can really pick up these high value offers in view of the many advantages and high-end features of the LDK IP Phone systems.
For small businesses with pre-existing compatible phones who need only the LDX station port to complete their IP/VoIP telephone infrastructure, TelcoDepot.com offers the LG-Ericsson LDK system with 6 lines and 16 ports with Auto Attendant and 8 hours of Voicemail recording for an amazing $1,229.00. The LDK main cabinet is also on sale for just $427.01 and can be used as a backup system.
Telco Depot also has a solution for rapidly growing businesses that need scalable systems, and provides the LG-Ericsson LDK Expansion Cabinet that is required to grow the system beyond 6 lines and 16 stations for only $499.95. Various expansion cards are also available at the TelcoDepot.com online store, including the 3x8 expansion card for just $362.50 and the 3x16 expansion card for a moderate $361.69.
There is also a T1/PR1 card and various models of LG-Ericsson LCD Digital phones, as well as several accessories available for purchase on the TelcoDepot.com site.
One of the strong points of the Telco Depot LDK IP Phone offering is the fact that it provides small businesses with a highly flexible and scalable communications solution that grows with the business, while being highly affordable when compared to similar solutions available elsewhere. Small businesses who chose to use the LG-Ericsson LDK IP Phone system will no doubt find it to be a worthwhile investment in the long run, as it provides options for higher productivity and eliminates unnecessary communications costs.
Quoting a company representative on the new line of LG-Ericsson LDK IP Phones;
"The LG-Ericsson LDK IP phones are ideal for small businesses that need the combination of flexibility and affordable high-end business phone features. The phones deliver powerful tools for high productivity, cost control and IP readiness, while also possessing more traditional business phone features, making them a very robust and scalable choice for small businesses."
Telco Depot provides sales and support on the LG-Ericsson LDK IP Phone systems, and businesses can purchase the phone systems in various combinations or packages depending on their requirements and size by visiting the TelcoDepot.com website. A number of related accessories including expansion cards, DSS Consoles, Wall mounting brackets and compatible LCD Digital phones are also available for purchase on the TelcoDepot.com website.
About Telco Depot
Telco Depot is a leading supplier of quality business telephone systems, business VoIP service, VoIP equipment, cabling solutions, networking installations and general telephony support. The company's top priority is to help its clients make informed decisions based on their specific small business phone system needs by providing experience and expertise and guiding them in selecting the best phone systems for their businesses. Telco Depot ensures that their phone systems are fully scalable and provide the highest utility for their clients. Telco Depot provides VoIP Phones, VoIP line service, digital telephone systems, Internet phone service, voice and data cabling, IP surveillance cameras, phone headsets, and Microsoft Response Point Systems
###